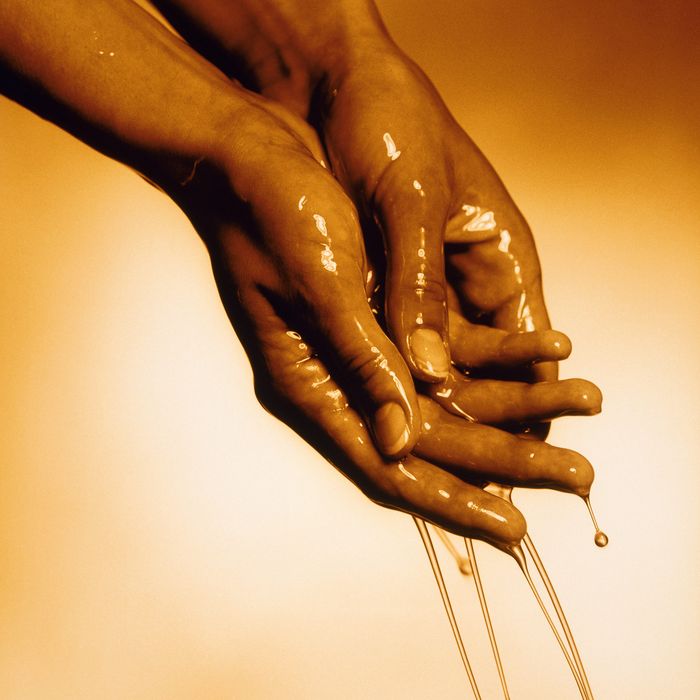 Photo: Blasius Erlinger/Getty Images
A shower oil is exactly as it sounds: an oil you use in the shower in lieu of soap or bodywash. Most are formulated with an ingredient that allows the oil to transform into a milky texture as soon as it hits water. Though they may seem indulgent (and some are), they are also a handy tool in stopping dry, itchy skin before it starts. I tried out almost a dozen different brands to find the ones most worthy of your dollar.
With few ingredients, a bland scent, and a low price, Cetaphil — the brand your dermatologist is always yapping about — is notoriously unfussy. And yet its shower oil made my skin feel the softest. The brand markets the in-shower oil as a rinse-off moisturizer, but make no mistake, it cleans just as well as any body wash. It's … perfect? Well, not if you hate mineral oil, which is the shower oil's most abundant ingredient (but seriously, mineral oil is safe and its bad rap is tragically unwarranted). The medicinal-leaning bottle won't look pretty in your shower, but you know what else doesn't look good? Dry skin.
Jo Malone's Peony & Blush shower oil smells so good — like a field flush with spring flowers. It actually scented my entire apartment after my morning wash — and yet the fragrance wasn't overwhelming on my skin. (I, uh, asked people to take a whiff.) Like most of the others, the oil doesn't foam; it simply lathers into a kind of thin, milky texture. The downside here is that it's expensive. So here's my advice: don't buy it for yourself. Give it to someone else as a super-chic gift.
The One I've Used for Nearly a Decade
In my teens I bought a bottle of L'Occitane's shower oil for my brother as an eczema remedy. Naturally, I siphoned half the bottle for myself. It makes my skin feel super soft, okay? The oil isn't too runny, so it's easy to maneuver in the shower, and it smells like almond cookies. If you don't mind smelling faintly of dessert in the morning, there's no better shower oil to plop in your cart (Beauty Director Kathleen Hou is a longtime fan too).
The One in the Trendy Bottle
I've already raved about Glossier's shower oil, so here are the Cliffs Notes. The fragrance is subtle, yet tinged with an adult, baby-powder scent. Rubbing the oil on my skin, I can whip up a few small bubbles, but it mostly emulsifies into a milk. Of course it feels good and isn't drying, but have you checked out its bottle? Put it in your shower, and you'll want to leave the curtain open when guests come over.
The Super Sophisticated One
I find Kiehl's items largely overhyped, but Creme de Corps shower oil is worthy of praise. It's got a smooth vanilla-and-almond scent that is grown-up but not boring. The fragrance didn't last, but that makes it perfect if you don't want to be draped in one particular scent for eight hours straight. My skin also felt soft post-shower — no surprise, as there are close to a dozen different oils in each bottle.
If You Really Want a Foamy Oil
Like oil, but miss the gloopy texture of a shower gel? Then consider YSL's Mon Paris, which has a viscous consistency a few notches thicker than an oil. The clear oil-gel burst into foamy bubbles when I lathered it over my body. The scent, made bright with notes of strawberry, pear, peony, and white musk, is delicately invigorating. Smelling this on my skin at 8 a.m. was better than a cup of coffee.
The One That Could Replace Your Perfume
This shower oil is the most "liquid-y" of the bunch thanks to an apricot seed oil that lathers into a milky broth. Its tuberose fragrance so intense that the day I used it, no fewer than three people inquired about my perfume. As a tuberose fan, I loved that the scent clung to my skin, but if you prefer a less fragranced experience, you've been warned. You could also try Diptyque's L'Ombre dans l'Eau, which the brand helpfully describes as "the story of daydreams, a calm river, a summer slumber under a weeping willow." (Hou loves this one too, especially in the Philosykos or Fig scent).
If you buy something through our links, New York may earn an affiliate commission.