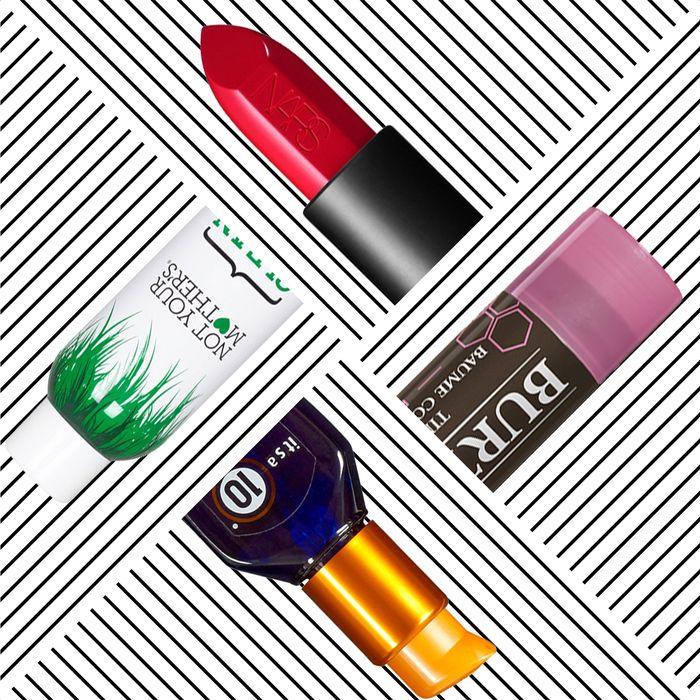 Every week, I get texts and DMs from friends asking, "What should I get?" I can talk about my favorite beauty products all day and do, it's my job. But it's better to crowdsource from experts who actually use a variety of beauty products on people of all ethnicities and skin and hair types, every single day. We asked a celebrity groomer, a hairstylist, and two makeup artists about the best ways to judiciously spend $60 on the mix of drugstore and luxury products at Ulta. Read on for the eye mask that converted a skeptic, the model-approved drugstore moisturizer, and the lipstick to pick if you can only buy one.
Cheri Keating, celebrity groomer
From many disappointing experiences both personal and professional, I had come to believe eye masks didn't do much other than moisturize the under-eye area. But for some reason, this one works when the other ones don't. It doesn't even have caffeine — the supposed magic ingredient — in it. But it's a miracle worker, even from one application.
I recently had a 12-hour commercial shoot with a client who had come straight from a comedy tour, and he needed a little extra love in the under-eye area. Twenty minutes after putting this on, I was shocked at the remarkable reduction in puffiness, dark circles, and dehydration. Amazing!
For those of us at home, they're simple enough to use. Pop the liquid chamber to allow it to soak into the "dry side." Apply and then meditate, feed yourself, feed the kids, do your hair, whatever! By the way, I do recommend 20 minutes, not 5 minutes for all under-eye masks.
BLISS Triple Oxygen Instant Energizing Eye Mask
This isn't something I use on set, but I talk about it a lot. This soap has a base, originating from West Africa, that's made from the ash of local plants and shea butter. It is an extremely mild but very effective cleanser, especially for troubled skin. It's great for acne, it doesn't leave the skin feeling stripped like most soaps, and it's far gentler than Dr. Bronner's line. I myself switched from Dr. Bronners to African Black Soap, and my skin cannot thank me enough!
Clariss Rubenstein, celebrity hairstylist
Nobody notices how great your color or cut is if your hair isn't in good shape. You can color and heat style your hair, as long as you apologize to it with treatments and oils. You wear your hair every day so it better look good. If you had one outfit to wear every single day, you would make sure it was clean and wrinkle-free. Do the same for your hair! This is such a great conditioning treatment. It would even be a bargain at twice the price. I have been using this forever, and it keeps my bleached ends soft, moisturized and shiny.
This is a great post-wash product. Whether you intend to blow dry or air dry, this sucks up all the dryness in your hair, leaving it conditioned, silky and manageable. Using a product after you wash and condition is a must! Never leave this step out.
I love hosiery-style pony tail holders. They're so my easier on the hair than regular elastics. They don't hurt the hair, they never break, and they're nice and stretchy so you can make your pony as loose or tight as you want.
Just because I love healthy hair doesn't mean I don't love volume and texture. This is a nice big bottle and will really plump up your hair. (The Strategist likes it t00.)
Justine Purdue, celebrity makeup artist
The Audacious lipstick is richly pigmented and feels lightly moisturizing without being too creamy. For Maggie Gyllenhaal's look for The Deuce premiere, I chose this because of the incredible color payoff. I also knew it would last during red carpet interviews while retaining its satin finish. For a softer finish to a bold lip color, apply lipstick, blot with tissue, re-apply lipstick, lightly blot again. Then use a Q-tip to lightly run around the edge of the lips, softening the edge of the lip line. It's not quite a stain, but can be a more modern way of wearing a bold lip color without it looking too "done."
This mascara gives clean volume and length with its gel-like texture. But it also lifts and holds the curl in the lash with the curved wand. This is a favorite because while it does boost volume and length, it doesn't flake or disintegrate as the day (or night) progresses.
Sil Bruinsma, celebrity makeup artist
I use this on almost every job. It's the perfect primer for foundation because it's lightweight and non-greasy. It's super affordable, too. Models always ask me what it is, thinking it must cost over $100 or come from a luxury brand.
This is one of the best lightweight foundations on the market. It applies very smoothly compared to other lightweight foundations and has great coverage. For the Thom Browne spring/summer 2018 show I did last October in Paris, we used the lightest shade on most of the models, mixing in a dab of M.A.C Strobe Cream in Silverlite and finishing with a sheer dusting of Extra Dimension Skinfinish in Double Gleam for an ethereal effect. Even though this was a runway look, a more toned-down version (no Strobe Cream and a very light hand when applying Double Gleam) works for a night out or a holiday dinner and will give you beautifully luminous, even-toned skin.
If you buy something through our links, New York may earn an affiliate commission.