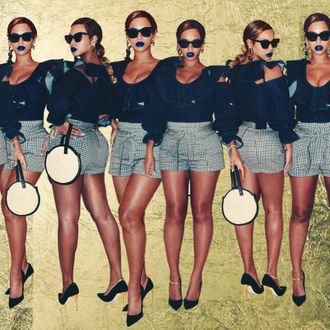 Photo: Courtesy of Instagram/beyonce
November 6, 2012, was a watershed date in the history of our nation. Not only was Barack Obama reelected for his second term as president of the United States, but Beyoncé Knowles joined Instagram under the username Baddie Bey.
In her first Instagram post, Beyoncé wore a T-shirt that said, "Texans for Obama," which she pointed at with an all-knowing smirk. After Obama's win was announced, she posted a second photo of a handwritten note that read "Take that, Mitches," in reference to the Republican candidate, Mitt Romney, but she quickly deleted it. Five years later, it's the only public social media slip-up she's ever made — if you can even call it that.
Instagram, as it turns out, is the perfect platform for Beyoncé. A visual, social medium, it allows her to communicate on a level that's at once intimate and controlled. On Instagram, she plays the role of both art director and curator, collaging a range of outside references to convey what's going on inside her head. She allows her fans to watch in real time as she constructs an identity — citizen, superstar, sex symbol, wife, mother, black woman — but she never fully lets them in. Her Instagram is both a wall and a window; it's vulnerability compressed into diamonds.
Today, Beyoncé has 108 million followers, making her account the fifth most-followed on the platform. (She ditched "Baddie Bey" in April 2013, shortly before the release of her eponymous album, leaving the title for Rihanna alone.) On February 1, 2017, Beyoncé broke Instagram records with a pregnancy announcement post by the artist Awol Erizku, which became the most-liked photo of all time with 11 million likes. And lately — presumably with a team of Photoshoppers — she's been grabbing attention with collages and animations inspired by the work of artists ranging from Mickalene Thomas to Andy Warhol. After 1,539 posts, her account has never looked better, nor more rich with meaning.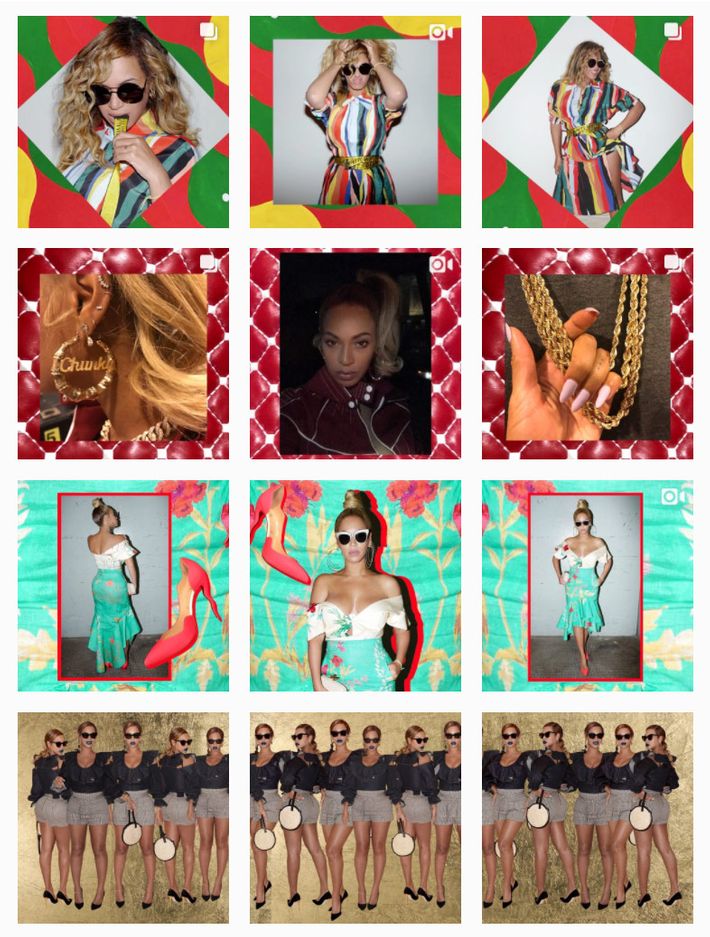 Beyoncé's success on Instagram should come as no surprise — and not just because she's one of the most beloved recording artists of all time. She's also an accomplished visual artist and curator, as her albums have proven time and time again. (Not to mention her live performances; just look at this year's Grammy Awards.) In 2013, she also proved herself to be a meticulous archivist with Life Is But a Dream, a documentary that she directed and produced. Her dedication to her own image is so complete that she maintains a temperature-controlled storage facility which houses every existing photograph of her and every piece of content she's ever produced.
"When I'm connected to something, I immediately see a vision or a series of images that are tied to a feeling or an emotion; a memory from my childhood; thoughts about life; my dreams or my fantasies," says Beyoncé in "Self-Titled," a video series complementing her 2013 visual album, Beyoncé. "I wanted people to hear the songs with the story that's in my head, because it's what makes it mine."
Beyoncé arguably helped invent the visual-album genre, beginning with B'Day in 2007 and most recently with Lemonade. So it follows that Beyoncé's Instagram would be a visual album too, revealing what she can't — or doesn't want to — say with words.
"I think Beyoncé controls her image completely, and I take issue with those who take issue with that," declared Kinitra Brooks, an associate professor at the University of Texas at San Antonio with a specialization in black women in popular culture. Brooks also taught a class on Lemonade, and is currently contributing to work on a Lemonade reader. "For so long, black women have not been in control of their image," Brooks continued. "She's saying: I'm going to let you in, but only on my terms. Because what's the alternative? Other people controlling you."
Looking back, it's not a coincidence that Beyoncé the person became more private at the same time that Beyoncé the celebrity and @Beyonce the Instagram account started to let us in, suggesting that images are the way she prefers to communicate.
"In mid-2013, Beyoncé really became less accessible, only giving us what she wanted us to have," says Kevin Allred, who's been teaching on the subject of Beyoncé since 2010. "She stopped doing magazine interviews, or any interviews really, and only gave us little images on Instagram." Allred also points out that Instagram is still the only social-media platform where Beyoncé is personally active, and that she rarely writes captions. "It gives her complete control, and makes it all visual," he concluded.
It's true: From mid-2013 to 2016, even though we weren't getting any new music, interviews, or revealing tweets from Beyoncé, we still got to feel like we were right there with her via images. She shared photos from family vacations, weddings, date nights, and mother-daughter outings. She even shared song lyrics scribbled on notebook pages. We also got to see what she was wearing each day, marking the passage of time — or what appeared to be the passage of time — with different haircuts and seasonal outfits. It was precisely because she was withholding information that each of these Instagrams felt like such a gift, prompting off-the-charts engagement and conspiracy theories.
"It's a way to be constantly present in culture, but also not there at all," Allred offered as an explanation for Beyoncé's behavior from 2013 to 2016. Of course, we would later learn what went on during those years through Lemonade, but again, only on Beyoncé's terms.
Images don't just allow Beyoncé to retain her privacy while remaining in public. They also allow her to spin a complex visual narrative, even when she's not making music. Sarah Lewis, an assistant professor of history of art and architecture and African and African-American studies at Harvard University (as well as a former professor of Awol Erizku), said in an email that Beyoncé's Instagrams appear to be inspired by the work of artists as diverse as Wangechi Mutu, Romare Bearden, Mickalene Thomas, and Andy Warhol, many of whom Beyoncé has referenced in the past.
What these artists have in common, broadly: Their work uses techniques like collage and repetition, and also explores ideas of identity, specifically race, celebrity, and gender. But Beyoncé isn't just an artist; she a polymath. Lewis compared her Instagrams to the work of Leonardo da Vinci.
Professor Brooks thinks that Beyoncé's desire to collage and layer images, which she's been steadily doing more of since 2012, suggests something about her personal growth, as well as her desire to play many different roles; to transcend but also embrace stereotype. This makes sense, as her identity has changed enormously over the past five years. Most significantly, she became a mother for the first time just months before she joined Instagram.
"Instagram gives us a peek into Beyoncé thinking about herself and her own growth; her self-construction and her reconstruction, and how that is a process," said Brooks. She added that many of Beyoncé's posts reminded her of paper dolls, which made her think that in some ways, Beyoncé is playing a very sophisticated game of dress-up with herself.
"How often do we get to see black women be playful?" asks Brooks. Despite all the heavy lifting that Beyoncé does with these images, they've also got a mischievous sense of humor, showing that Beyoncé doesn't take herself too seriously. She knows how to play with our expectations, taking ownership of, for example, the rumors about her relationship, and teasing us to want more, and more, and more.
Beyond playing with identity, fashion also allows Beyoncé to explore and celebrate her relationship to her body — one that has grown multiple lives; one that fluctuates in shape; and one that continues to attract the sexual attention of her husband. Sometimes, we even see Beyoncé's body through Jay-Z's eyes when she passes the camera off. But of course, we know she's still the one calling the shots.
"I think she's having a conversation, as she always has, about the commodification of the black female body," Brooks said of Beyoncé's increasingly complex fashion Instagrams, reminding us that the black woman's body was literally a commodity during slavery. It's a direct and private discourse between black women, in plain sight.
"What happens when the black woman begins to commodify herself?" Brooks posits. "We see the replication of the black woman's body through digital art." In other words, we see Beyoncé making lemonade.
In addition to Beyoncé's more revealing fashion posts, Brooks was struck by a collage Beyoncé posted in October of only her mouth and hands. She is disembodied, floating in space yet still recognizable as a whole. It is the ultimate testament to the power of her image that she's able to disappear completely while still remaining present as a subject.
There's no reason for a celebrity Instagram account to be as thoughtful or complex as Beyoncé's. Fans would probably have been happy with a steady stream of outfit pics. But Beyoncé has never been satisfied with being just a pop star; she's a Renaissance woman who will not rest until she's made history.
"She's saying: I'm a part of this narrative; I am making my own narrative, and you will pay attention to me," Brooks concluded.
And yet, for all the attention and analysis invited by her account, Beyoncé the person still remains mostly a mystery to her 108 million fans. Five years after she joined Instagram, we still don't know the woman behind that all-knowing smirk. But we'll never stop looking.