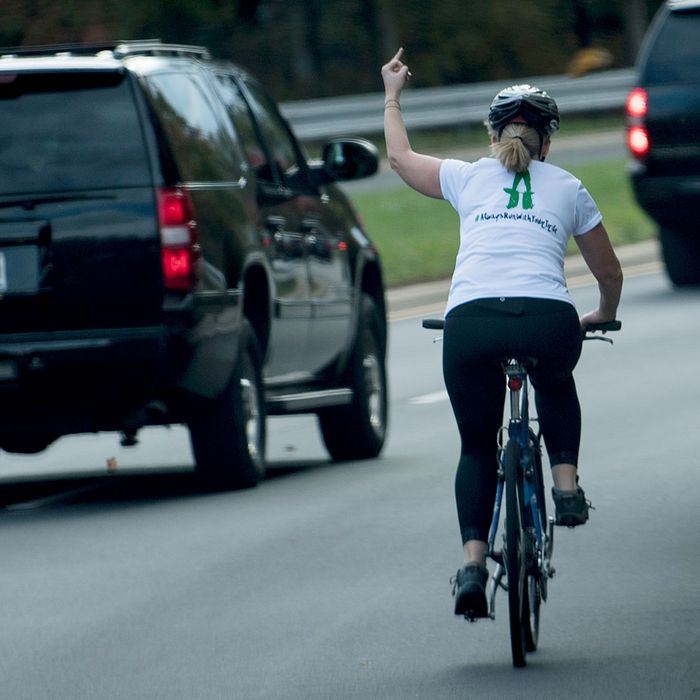 Photo: Brendan Smialowski/AFP/Getty Images
Last week, Juli Briskman achieved peak virality after a White House photographer snapped a picture of her biking alongside the presidential motorcade in Virginia. Well, a picture of her biking and also flipping off said motorcade. It's a striking image. So striking, in fact, that Briskman was fired for it.
After seeing the photo, Briskman's employer, government contractor Akima LLC, terminated her, Huffington Post reports. Her bosses said that by using the image as her profile picture on Facebook and Twitter, she had violated the company's social-media policies. "They said, 'We're separating from you,'" Briskman told HuffPo. "Basically, you cannot have 'lewd' or 'obscene' things in your social media. So they were calling flipping him off 'obscene.'" She says she told her bosses that her online presence doesn't mention Akima LLC and that, as a contract worker, she wasn't currently on a job for them. She also tried to argue for her job saying a colleague who called someone a "fucking libtard asshole" on Facebook was only reprimanded, but it didn't matter. After just six months with the company, Briskman was out.
As for life after becoming a meme, Briskman says she's "doing better than ever." She'd also like it known that she flipped off the motorcade "a number of times."