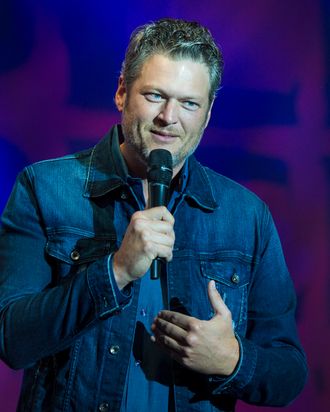 Blake Shelton.
Photo: Erika Goldring/Getty Images for Ryman Hospitali
Is Dwayne Johnson any less sexy in 2017 than he was in 2016? We have our doubts. And yet, every year there comes a time when People must tell the world who our new "sexiest man alive" is.
Is he one of Hollywood's four notable hunky Chrises (Hemsworth, Evans, Pine, or Pratt)? A character from the very sexy Tulip Fever? Or maybe the magazine would return yet again to one of the aging four stars named twice before: Brad Pitt, Johnny Depp, George Clooney, or Richard Gere? Nope. It's country singer Blake Shelton.
Shelton is the second The Voice judge to hold the title — Adam Levine graced the cover in 2013 — and also the second musician ever to hold the honor (again, second to the Maroon 5 front man). Maybe The Voice should get a new tagline: Watch for the undiscovered talent, stay for the certified beefcake.