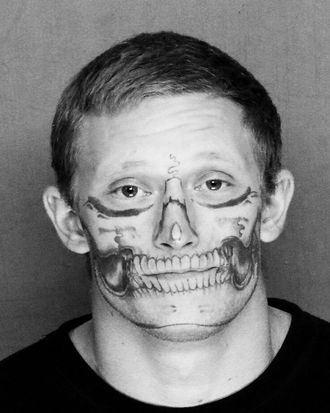 Corey Hughes.
Photo: San Joaquin County Sheriff's Office
Once upon a time, a young man named Corey Hughes went to get a skull tattoo and was like "nah, man, on my entire face." Fast forward to today, when he's an escaped inmate and probably wishing he had gone with something more subtle.
The Washington Post reports that Hughes, 27, has been serving a weapons-related sentence at Honor Farm, a minimum-security prison in California's Central Valley. He was out with a work crew when he went missing on Monday afternoon, and police are currently still searching for him.
As for Hughes maybe he can try, uh, drawing on a mustache?
Sources