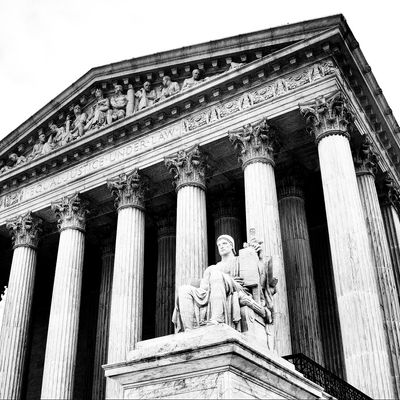 The Supreme Court.
Photo: Phil Roeder/Getty Images
The Supreme Court announced on Monday that it will hear arguments next year to determine whether California's Reproductive FACT Act violates the First Amendment of the Constitution by requiring anti-abortion counseling centers to provide clients information about available low-cost abortion and contraceptive services, NPR reports.
According to the Reproductive FACT Act, which became law in October 2015, California's "crisis pregnancy centers" — clinics which provide health services for pregnant women and counsel them against terminating their pregnancies — must display a notice that reads:
California has public programs that provide immediate free or low-cost access to comprehensive family planning services (including all FDA-approved methods of contraception), prenatal care, and abortion for eligible women. To determine whether you qualify, contact the county social services office at [insert the telephone number].
The case is being brought by NIFLA, the National Institute of Family and Life Advocates, which says the law violates clinics' free speech by forcing them to advertise abortion services. The U.S. Court of Appeals for the Ninth Circuit upheld the law last year, arguing that the sign did not promote abortion, but simply informed clients about the services available to them.
NIFLA v. Becerra is one of many contentious cases the Supreme Court will take on this term, including arguments related to President Trump's travel ban, and the case of the Colorado baker who refused to bake a wedding cake for a same-sex couple in 2012.