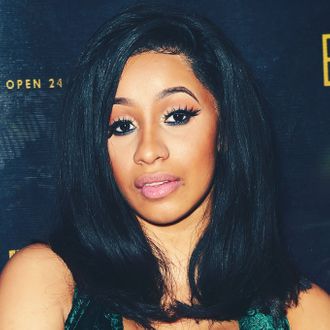 Cardi B.
Photo: Gustavo Caballero/Getty Images for E11EVEN
This weekend, the New York Times reported that this fall there were rumblings within the White House that Ivanka Trump, the president's close adviser and favorite child, could replace Nikki Haley as the U.S. ambassador to the United Nations. Trump aides said they never heard such a rumor, and Haley remains in place at the U.N. But now, a new ambassadorial candidate has emerged: Cardi B.
In an Instagram live post on Monday night, the "Bodak Yellow" rapper lounged on her bed in a white bathrobe and shared her thoughts on the situation in Libya and the U.N.'s failures there. "What I'm trying to say is, the United Nations, they never mind they fucking business. They always on somebody's business, some bullshit, all the time. I don't understand why they not making their problem or priority to help what's going on in Libya," she began, adding:
You wanna know why they not making it a priority? […] You wanna know why they don't care? Because it's convenient for them. It's convenient for them because they want free resources, they want their free goods, and that's why they don't give a fuck.
She also referenced the country's lack of leadership since the ousting of Muammar Qaddafi in 2011 ("Didn't he have long hair?"), noting that "a lot of fuck shit been going on," and concluded:
And you wanna know something? They might kill me for this, but it's a FACT — it's a motherfucking fact — what's going on over there is shameful and disgusting. And us, the people, as much as we say, "Pray for this, pray for that," it's just like, sometimes it seems like we can't really help. But those people, the United Nations and these countries, they could help. They just don't fucking want to, because it's convenient for them.
This is not the first time Cardi has shared her thoughts on geopolitics. In an interview with Billboard in October, she responded to Trump's attacks on protesting NFL players, and asked why he didn't turn his attention to more important issues, like the situation in North Korea.
"Why is our president so concerned about what football players is doing when the goddamn world is going in shambles?" Cardi asked. "You got this man from North Korea that's talking about he's declaring war — which, I don't know, declaring war on who? Don't declare war on us. We don't want that beef."
Cardi B: not the diplomat we deserve, but the diplomat we need.
Watch a full video of her comments below.