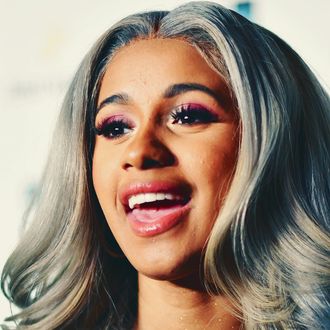 Cardi B.
Photo: Dia Dipasupil/Getty Images for iHeartMedia
Cardi B does not do a-n-y-t-h-i-n-g for free. ICYMI, she makes money move.
But the 25-year-old musical artist recently had a change of heart. Following Meghan Markle and Prince Harry's engagement announcement on Monday, she told Britain's Capital XTRA station that she would perform at their royal wedding in May, free of charge.
"Why would you charge them?" she said. "I'll just do it, cause it's like oh snap. Have you performed for a future king?" We're assuming she means Prince Charles, who would be in the crowd. Regardless, Cardi B loves a monarchy.
"I'm a fan of their whole story. I'm a fan of the fact that it's just like people still stuck to that tradition of royal kingdoms and everything," she added. "That doesn't happen in America."
Here's hoping the royal couple walks down the aisle to "Bodak Yellow."