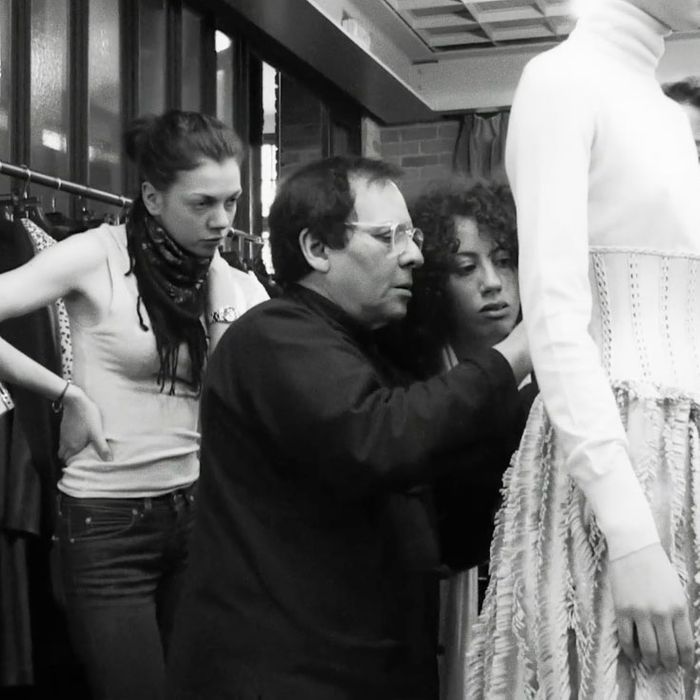 Azzedine Alaia.
Photo: Joe McKenna
In 1999, the long-time fashion editor Carlyne Cerf de Dudzeele urged me to go and meet Azzedine Alaïa. I had recently joined the Times, and I got the sense from Carlyne's tone that not only would I be in for a treat but that few journalists were visiting Alaïa. One of the certainties of the fashion world — of any world, I guess — is that everyone has his moment and then the roar shifts to someone new. Fame lasts for no one, Ingrid Sischy observed at the end of a profile of Alaïa, in 1994. That piece, called "The Outsider," ran in The New Yorker and featured an Avedon photo of the supermodel Stephanie Seymour bending down bare-assed in a pair of Alaïa chaps to plant a kiss on the diminutive designer, who looked startled.
By then, the fashion world had moved on to the minimalist Helmut Lang, as well as a new wave of British talent — Vivienne Westwood, John Galliano. Alaïa had legendary feuds with Vogue, Women's Wear Daily, and others. To be sure, Alaïa still had his fans, but owing to a series of business and personal setbacks, in particular the death of his beloved sister, Alaïa took longer and longer to deliver his clothes to stores. Indeed, they seldom arrived in season, and that was a problem for the increasingly corporate fashion business. One of the few retailers who would wait for his Alaïa delivery was Gene Pressman of Barneys. As he told Sischy, "When it arrives, I'll take it, because he doesn't make mistakes. He makes classics."
So, for the first time in my career, I went to see Alaïa in his studio in the Marais. Housed in a former warehouse of the BHV department store, the studio was directly above the Alaïa store and below Alaïa's private apartment. There was, in addition to a warren of ateliers, a very large show space framed in elegant ironwork, and it was there that I saw one of Westwood's early Paris shows. Alaïa had loaned the space to his friend. But I had never seen an Alaïa show. I had missed most of the '80s, when Alaïa was dubbed the "king of cling" for his curvy dresses and sharp leathers, and every super in the world would fly in for his shows, which were never held at the same time as the rest of the collections. Unfortunately, I never worked for a newspaper that followed Alaïa time, so I never saw Naomi Campbell or Veronica Webb or Stephanie strut down the runway, their clothes still warm from Alaïa's iron. He did everything himself and, as Gene said, he didn't make mistakes.
Alaïa, who came up to roughly my sternum, greeted me and led me up the winding back stairway with worn, uneven treads to a studio that basically looked like a cyclone had come through. There was stuff everywhere — racks of clothes, piles of boxes against the walls, rolls of fabric, things spread across tables and more jammed under them. Near a brick pillar, covered with photos of movie legends (clients, in some cases) and snapshots of models and their kids, was Alaïa's worktable, covered with scraps and patterns and pins. Next to it was a giant TV set, because he liked to keep it on as he worked late into the night, usually past two or three in the morning. Behind Alaïa's table was a wall-length mirror. It was in that narrow space, between the table and some boxes and usually a dress rack, that he conducted his first fittings on a house model, looking at her reflection and then back at the cloth that he was molding and pinning with his hands, a pair of girlishly pink glasses pushed up on his nose.
In other words, it was in that narrow, unimpressive space that some of the most original fashion of the late-20th and 21st centuries was created. Alaïa loved designing for the female form, constructing his garments directly on the body. Very few designers do their own fittings, much less make their own patterns, but he did. From his first studio in Paris, on the Rue de Bellechasse, he made clothes for a growing group of devoted customers. He earned their trust in the way couturiers used to work. No armies of assistants, no hovering publicists, just an obsession with remaining alive to a woman's body, the way she walked in the street.
Another thing that set Alaïa apart was his love of technique. Like a scientist in a lab, he would experiment with a time-honored couture technique — ruching, say — until he was satisfied that he had explored it to its logical end. With the ruching (a process of gathering fabric into elegant, crinkly pleats), each phase of the effort produced fantastic results. He started with exquisitely simple dresses in silk crepe with perhaps four single channels of ruching. The next time I saw Alaïa, he had more channels. Eventually, he made a dress entirely of ruching. It was the craziest thing, almost a doll-size dress, except it stretched. Though he was known for his caterpillar dresses and sexy knits, he had a true gift for tailoring and cutting on the bias, which put him in the same class as Madeleine Vionnet and Cristobal Balenciaga. Whatever Alaïa did, it looked modern — and beyond trends.
I didn't stay long that first visit. Frankly, I was a little overwhelmed and my French was horribly inadequate. But I knew that everything I saw, the little man in the black Chinese pajamas, the clutter, the creak of the wooden floors, the cat napping on the table, the arrival of the wine, was utterly unique and would one day vanish. I wanted to write about it. I asked Alaïa if I could come to his studio each time I was in Paris over the years and just sit and watch him work. He agreed.
He said, "My house is your house."
I can only tell you that he kept his word, in the most profound sense. For the next 18 years, his house was my house. And he extended that warmth and privilege to many, many people. And without fanfare or expectation. I think that spirit came directly from his own upbringing in Tunisia, the closeness of his family. In any case, he never lost it. He knew a shocking number of people. I remember attending a dinner in the show space for a prominent French political journalist, and gazing at the collection of writers and thinkers in the room, including Bernard-Henri Levy. They all knew Alaïa and his boyfriend, the painter Christoph von Weyhe.
Last month, as the Paris collections were winding down, I went to a dinner in Azzedine's kitchen, celebrated for its impromptu gatherings and delicious, homey food — often prepared by Azzedine himself. Carla Sozzani, his close friend and business collaborator, was there. So was the Milan publicist Emanuela Schmeidler, the stylist Joe McKenna, and the long-time Italian Vogue art director Luca Stoppini. I could remember other nights in the kitchen, with Naomi, or Kanye West, or Marc Newson, or Rei Kawakubo.
But that night in October was special, the gathering of a tribe. We laughed hard, and Azzedine seemed very jolly. If he was in poor health, he did not show it. Around midnight, he walked me out to my car, through the half-dark shop, and asked when I would be returning to Paris. Maybe in January, I said. He told me to come and see him.
As we hugged, I said, "Of course, my friend."