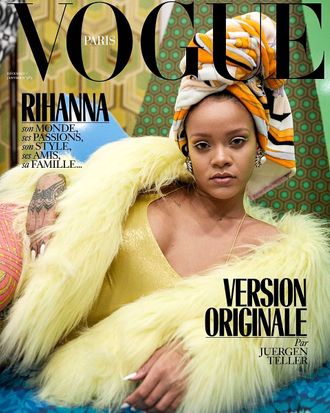 Rihanna.
Photo: Juergen Teller for Vogue Paris
All trends begin and end with Rihanna.
In October, the superstar told us that Instagram is where "trends go to die." But on Monday, she shared not one, but three covers for Vogue Paris, and — whether she meant to or not — solidified in the process a very important fashion trend: wearing a towl. Or "bath-leisure," as we're calling it.
In a cover image photographed by Juergen Teller and styled by Anastasia Barbieri, Rihanna casually wears, around her head, an orange, printed towel from the Emilio Pucci spring 2018 collection. This makes her the third celebrity to wear terry cloth in public this month.
Rita Ora made headlines when she went to the MTV Europe Music Awards a few weeks ago in a terry cloth robe and towel from Palomo Spain (otherwise known as the menswear label that designed Beyoncé's pregnancy announcement robe). And the South Korean singer CL wore a Vaquera bathrobe to the CFDA/Vogue Fashion Fund awards earlier this November. Two young, emerging fashion labels on the same exact page? It's called the Zeitgeist, look it up!
"Robes, Issa Lifestyle," CL captioned an Instagram from the event. We couldn't have said it better ourselves.