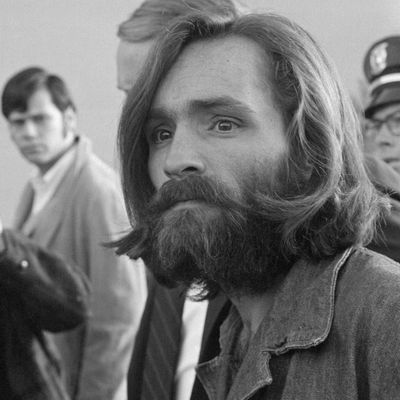 Charles Manson arrives at the courthouse in Independence, California, on December 3, 1969.
Photo: Bettmann/Bettmann Archive
Charles Manson, the leader of the violent Manson Family cult that murdered actress Sharon Tate and six others, died on Sunday, reports Variety. He was 83. The California Department of Corrections reported that he died of natural causes.
On August 9, 1969, Manson orchestrated the gruesome murder of Sharon Tate and four others who were at her Los Angeles area home: Jay Sebring, Wojciech Frykowski, Steven Earl Parent, and Folger's coffee heiress, Abigail Folger. Tate, who was the wife of director Roman Polanski, was eight-months pregnant at the time. Though Manson was not present for the killings, four of his followers committed the crimes under his orders. It was part of his plan to start a race war that he called "Helter Skelter," so named because of his interpretation of the Beatles' White Album song. The following night, under his direction, his followers fatally stabbed grocery-store owner Leno LaBianca and his wife, Rosemary.
The apparently random killings sent a wave of terror through Los Angeles, and came to be seen as the end of the innocent and carefree hippie movement. The seven-month trial — in which Manson lunged at the judge with a pencil and his acolytes followed his lead in carving an "X" into their foreheads, among other stunts — captivated and disturbed the nation.
In 1971, Manson and three of his followers — Susan Atkins, Patricia Krenwinkel, and Leslie Van Houten — were found guilty of the murders and sentenced to death. Separately, Manson was convicted of killing two more people: musician Gary Hinman and stuntman Donald Shea. Yet, Manson and his followers escaped the death penalty when it was abolished in California in 1972; their sentences were commuted to life in prison.
Manson was born on November 12, 1934 to Kathleen Maddox, a 16-year-old believed to be a prostitute. He never knew his father and Maddox was frequently absent, leaving him with a string of relatives. He spent his teen years in a number of reform schools. When he began amassing followers in San Francisco in 1967 at the age of 32, he was as career criminal and amateur musician who had spent nearly half his life in prison.
He eventually moved to Southern California, along with several of his followers, to pursue a career in music. Though he was unable to get his career off the ground, for a brief time, he lived in the home of the Beach Boys' Dennis Wilson. The band even recorded one of his songs, "Cease to Exist," though the group reworked it heavily and retitled it "Never Learn Not to Love" for their 1969 album 20/20. Dennis Wilson received the writing credit, and Manson was rumored to be extremely agitated by the changes to the song. Several other songs that he wrote and recorded before the murders would go on to be covered by the likes of Guns N' Roses, the Lemonheads, and Devendra Banhart.
Between 1978 and 2012, Manson was denied parole a dozen times. In the decades since the heinous murders, he's remained one of America's most notorious killers. Manson's life and crimes have been depicted in many books, documentaries, and other mediums, including one rumored upcoming Quentin Tarantino project.