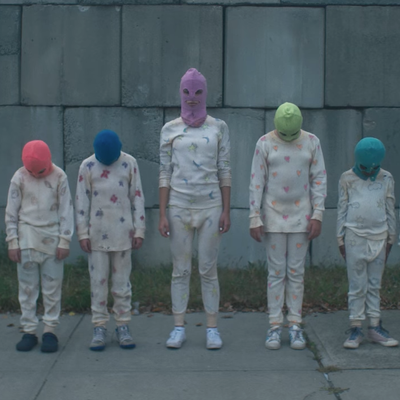 An image from Pussy Riot's latest release, "Police State."
Photo: Pussy Riot/YouTube
The Russian punk-art collective Pussy Riot has released their latest track, "Police State," a surprisingly catchy antifascist anthem.
Like the police state warned of on the track, the lulling electro-pop melodies obscure the song's foreboding lyrics. (And are a pretty big departure from last year's anti-Trump music video, "Make America Great Again.")
"Oh my god I'm so happy I could die … Oh my god I'm so happy I could cry … No problems in paradise, we'll lock them up," the women croon.
In the video, released today, actress Chloë Sevigny plays a teddy-bear-kicking police officer who breaks plastic school buses with her billy club and harasses balaclava-clad women as a ballerina pirouettes nearby. In another scene, young girls are tied down and forced to watch images of President Trump and Russian president Vladimir Putin shaking hands on national television.
And although the song's chorus loops with the charm of a summer-pop hit, in a statement to Rolling Stone, Pussy Riot's Nadya Tolokonnikova was very clear about the intended message.
"Pro-authoritarian trends and autocratic, conservative, right-wing leaders," are "spreading around the world like a sexually transmitted disease," Tolokonnikova told Rolling Stone.  "What was in fact blown up on 8th of November 2016 was the social contract, the paradigm that says that you can live comfortably without getting your hands dirty with politics."