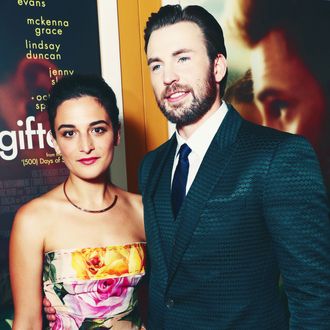 Jenny Slate and Chris Evans.
Photo: Todd Williamson/Getty Images for Fox Searchlight
With so much terrible news coming out recently, I have found myself desperately clinging to one positive, beautiful rumor: that comedian and actress Jenny Slate has reunited with her trophy-boyfriend Chris Evans, of the Hollywood Chrises. Now, based on a tweet from Slate, and hopeful conjecture on my part, it would seem that the pair are indeed together, and supporting each other in all of their sartorial endeavors.
Though Slate does not explicitly state that Evans is the boyfriend in question, Us Weekly reported in October that the exes were spotted around Atlanta and that they "seemed like a couple." Plus, can't you just imagine Evans gazing on lovingly while Slate flits around the room discussing endearingly random topics like turtlenecks, plants, and poop? That mental image doesn't technically count as proof they're back together, but it sure feels like it.