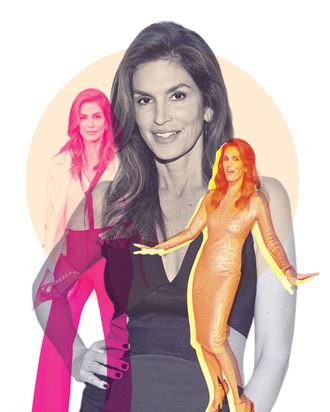 Photo-Illustration: Stevie Remsberg; Photos: Getty Images
You can't name iconic models without mentioning Cindy Crawford. From posing for Pepsi to appearing in the most recent Versace runway show, she's been a staple of the fashion world since she was 16 years old. And now she's passing the mantle to the next generation: Her daughter Kaia Gerber, 16, walked in her first fashion season for everyone from Calvin Klein to Chanel.
Now retired from modeling, Crawford has co-founded Meaningful Beauty, a skin-care company that she swears is the secret to her youthful skin. They recently launched four new products: a Youth Activating Melon Serum, a broad-spectrum sunscreen, a triple exfoliating treatment, and an overnight retinol repairing cream. Fresh off of traveling with Kaia for fashion month, Crawford told the Cut about when pasta used to be a diet food, her sleep advice to her supermodel daughter, and her love of trampolining.
How I start my morning: I live in Malibu at the beach so the first thing I do is go out and get in the Jacuzzi. I look at the ocean as the sun is coming up and watch that every morning. That's the time before anyone needs anything from me, so I can walk through my day and see where something might slip through the cracks. It's also when I can have that gratitude moment. And when I get out I have a green tea.
During the week, I almost always make a smoothie. I got inspired by a friend who has a company called Urban Remedies. When I'm traveling, I order her smoothies to be delivered. When I'm home, I'll make it myself. It has almond milk, a little piece of banana, a cup of spinach, some mint, a little cacao and I put in green powder — I've been using the Elle MacPherson's SuperElixir — and then I put in protein powder.
How I like to sweat: My go-to workout would be 20 minutes of cardio then weights. Sometimes the cardio is jumping on a trampoline, using a treadmill or elliptical, or running. We have stairs going down to the beach from our house. I put on an audiobook or music while I run the stairs at my house for 20 minutes. I just finished the Amy Schumer one, which was fantastic.
I try to get 20 minutes of cardio at least three times a week. Then I do anywhere from 30 minutes to an hour of old school lunges, weights, squats, and bicep curls — it's just stuff that I learned 30 years ago. Once a week, I try to go on a hike with a friend so I combine exercise and girlfriend time — it's the best multitasking.
What wellness means to me: Wellness to me is about balance. I don't want to be one of those people that's like, Oh my god I missed my workout I'm so stressed about it, or Oh my gosh I had a piece of birthday cake. It's not just being healthy. In my life it's balance between friends, family, philanthropy, me-time, and work. The days when I feel like I got it right — they're few and far between — are the days when I feel the most well in the complete sense of the word.
You know those days when your engine is revving too high because you feel like you woke up and are already behind on your day? Then there are some days when, even though you're having lunch with your friend, you can't get your mind off your to-do list. That's not a good feeling for me. That's part of the reason I'm very punctual and organized. For me, I function better when I have a schedule and a routine. Waking up and feeling like you're behind is the definition of unwellness.
How wellness has changed for me: As a young woman, you focus more on the physical. You put wellness and health in terms of the way you look. You're like I should fit into skinny jeans, therefore I'm well. I've been traveling the last month with my daughter, she's having her first fashion season. I worked out five times in five weeks, which is crazy. But I was talking with a friend and that amount of exercise was what we needed to do for our schedule and we cannot stress about that.
There's periods when I'm in California for a month and I can stick to my routine. Then there's periods when I'm with my daughter in Europe for a month and I need to be okay with that and enjoy walking around in Paris more.
On advice she's given to Kaia about modeling: The good thing is that she's grown up with seeing how I take care of myself, so I don't really have to say that much to her. She's seen me going to bed early if I have an early call the next day or waking up early to squeeze in a workout. Maybe it's just my kids, but they act like they're not listening to what you say, so I have to live by example. I just went with her on her first fashion season and I think the only advice I gave her was that you can only sleep five or six hours one night or two nights in a row. It's cumulative — take the time to catch up on your sleep and have alone time.
I love this fashion world and all the experiences I've had as a model, but sometimes it's just people touching you all day long. You need time when nobody is touching you. You need to take your makeup off, put sweatpants on, and step away from the fabulous world of fashion for a minute or two. The people [who are touching you], their job is to make you look better, so you're so grateful. But there is an abnormal amount of attention on you and sometimes you need to step away to realize that's just not normal.
On being physically scrutinized as a model: The thing about modeling is that there's no pretense that it's about anything else. Nobody really talks about a model's personality. It's like, she's either good for the job or she isn't. Maybe they'll talk about how she moves, but it's definitely a job where everyone understands what it is. In some weird ways, it's very black and white, and I like that.
But it's a big motivator. That's why I started working out when I was 20 years old because I needed to get fit. When I was 28, I started thinking about really taking care of my skin and knowing that I'm not going to have 20-year-old skin forever. In a weird way, it's been great for me because working out, having a trainer, getting a facial once a month — those things never felt extravagant because they felt like part of my job. They just felt like me taking care of my instrument.
On aging: Sometimes I say for a shoot as I get older, "Look guys I have no idea what I'll look like when I get up. I'll wake up at 6, but I'm just saying you won't want to shoot the close-up until after 9." You feel a little apologetic that you can't deliver in the same way that you could when you were 20 or 25. Everything changes: your skin, your hair, and your body. I take care of myself but I know that I'm a 51-year-old woman. There are times when that's hard and I'm also sure it's hard for my sisters who aren't models. I want to do my job well, and I want to deliver but I also know that what I have to offer now is different from what I had to offer at 25.
I have pillow lines that last so much longer now. Kaia can wake up and even if she's puffy from having sushi the night before, her face goes back to normal in 15 minutes. For me, I wouldn't even eat that now because it would take the whole day for it to go down. When I look at my friends, I look at how beautiful they are and don't pick them apart. I think to be kind to ourselves as women, we should try to look at ourselves through our friends' eyes as opposed to the super hyper-critical eye that we usually turn on ourselves.
On nutrition: The overall theory is 80 percent good, 80 percent of the time. That's achievable to me. But I'm constantly learning. When I first moved to New York, for some reason everyone thought pasta was low fat. I actually thought that was a diet food. I was never so happy. It was awesome. But my body does better with less "white foods" like bread and pasta. Those things stick to me more than a salad with a piece of salmon or vegetables and protein. Once in a while, you have to have a piece of pizza. I look back at those times with longing. Sometimes ignorance is bliss. I wish I still thought a big bowl of pasta was a diet food; now it's a total cheat.
My biggest wellness struggle: Until five years ago, I just wasn't able to get enough sleep. When you get in the habit of a kid waking you up at night with nursing or whatever, it was hard for me to sleep from 10 until 6. I looked tired for ten years and I didn't even know that I was tired. But there was that underlying fatigue. It really affects your energy and your relationship with sleep.
Traveling a lot as a model, the jet lag doesn't help. I tend to wake up early, so I'd say I get seven to eight hours of sleep. I used to wake up at 4 a.m. and not be able to get back to sleep so I'd lay there for two hours just getting annoyed with myself. By the time 6 rolls around and you get out of bed, you're already exhausted.
My best wellness advice: Listen to your instincts. It's like anything, what is right for your friend may not be right for you. So try it, but if it doesn't work for you, there are 20 more things to pick from. If you don't like biking, try swimming. If you don't like swimming, try a class. There is no one way, so find your one way.
When people say, "What are your beauty secrets?" I'm like, the beauty secrets are that there are no secrets. We all know: Get enough sleep, drink water, don't smoke. We all know those things — the secret is doing it consistently.
Cindy's Wellness Recommendations
I've noticed that I've not only gotten fewer pillow lines, but it's better for my hair. That's the one thing people don't talk about with aging. We all know skin is so important, but your hair changes too.
I'm a big fan of dry brushing before you shower. I have it sitting right outside my shower so I'll do it whenever I have time.
Here's the thing about this trampoline: It doesn't take up very much room. You can store it under your bed. It has bands instead of springs, so it's not like a [squeaking sound]. It's a fun way to get your cardio in and if you can do it for ten minutes, you notice you have to keep your core and everything really tight in order to do it.