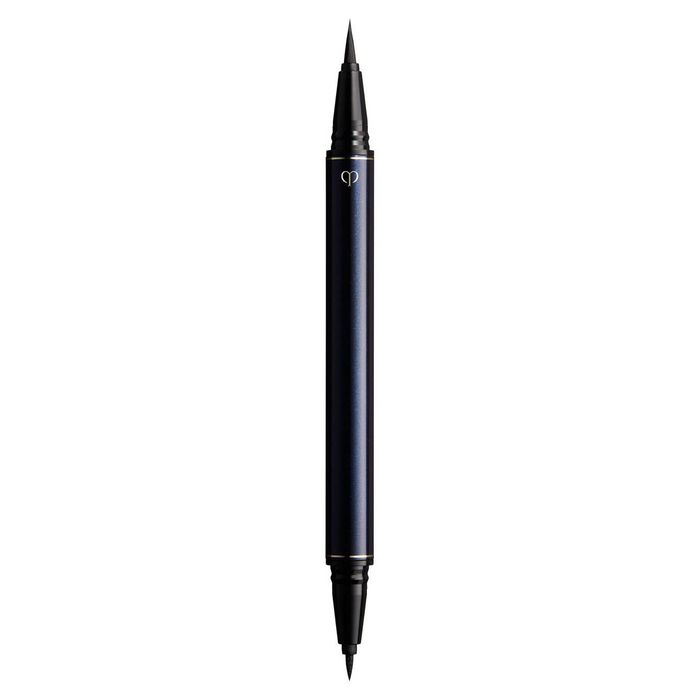 Is two really better than one? It depends on the situation. Two men in turtlenecks together? Probably unnecessary. Two Instagram accounts for one person? It's called a Finsta and all the cool teens have them. Two wild strawberry tarts? They bring me joy and I will need them both, thank you very much. So when I came across a new liquid eyeliner with two tips getting bomb emoji raves from my makeup artist friends, my first thought was, that is two more tips than I need on a daily basis.
But even in the online beauty world, where the word "best" is abused for SEO purposes, I'm ready to throw it down: This is the best liquid eyeliner out there right now. Forget all your scotch tape cat-eye hacks: the two tips make drawing your eyeliner almost disorientingly easy.
You won't need to roll your eyes back while the eyeliner dries so the pigment doesn't transfer, because it dries in a second. You won't need a primer, because it endures all day. You won't need to worry about smudging, because it just doesn't. And it's blacker than night. Even professional makeup artists, for whom black eyeliners run on a spectrum from actually-just-gray to sort-of-black to true-black, agree with me on that.
The two tips, which are both very firm, actually help you draw your eyeliner better and prettier. Use the thicker end for drawing the broad strokes, like the section that extends past the corner of your eye. You can wield the pen any which way, vertically, horizontally, or upside-down, and the ink will still run true without gaps or spurts. Then, use the thinner end for detail work or clean-up. It can help color in the gaps between your lashes, sharpen a cat-eye corner, or straighten a line.
So far there aren't that many reviews online, which I attribute to the luxury price point. But the ones that do exist — on sites like Nordstrom, Neiman Marcus, and the Clé de Peau Beauté site — back me up: this thing is worth five stars.
If you buy something through our links, New York may earn an affiliate commission.