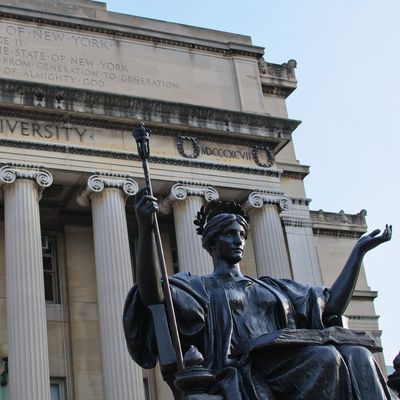 Columbia University.
Photo: InSapphoWeTrust/Flickr
A prominent historian has stepped down from teaching duties at Columbia University after a 29-year-old female doctoral student filed a federal lawsuit alleging he forced himself on her and retaliated after she rejected his advances, Gothamist reports. However, Professor William V. Harris is still technically employed by the university.
According to a lawsuit filed last month in Manhattan federal court against the university and the famed academic, Harris allegedly repeatedly groped and kissed the woman while he served as her mentor at Columbia. As the New York Times reports, university officials allegedly turned a blind eye when the student — known as Jane Doe in the lawsuit — reported Harris's behavior, and advised her only to take steps to avoid running into him. The complaint states that Doe was "emotionally traumatized" by his behavior.
The lawsuit also alleges the university knew Harris had a reputation for harassing young, female students, but did nothing to stop it. But on Monday, the university informed graduate students and faculty in the History, Classics, and Classical Studies department of Harris's withdrawal. Per Gothamist:
"Earlier today, students enrolled in Professor William Harris's classes were told that he has agreed with the University to withdraw from his teaching, advising and other student-related activities," it states. "We share this information more broadly with you to clarify what has been a subject of considerable discussion and concern. We also want to take this opportunity to reiterate that Columbia must be a place where students and scholars are able to purse [sic] their academic work free from worry about harassment of any sort."
The move comes in the wake of sexual assault and harassment allegations against numerous prominent men, including some in the academic world. "I think we are at a cultural tipping point, and I think that tipping point is in part evidenced by what Columbia did," David Sanford, an attorney for Doe, told Gothamist. "I think Columbia understands the cultural moment, but … it's a cultural moment years too late."