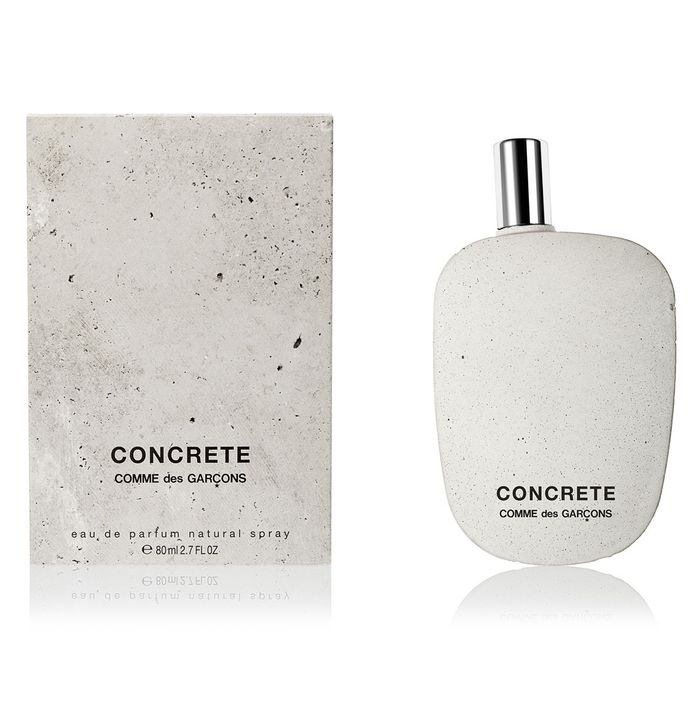 Comme des Concrete
Photo: Courtesy of CDG
In 1994, Commes des Garçons released their first fragrance. An "anti-perfume" named simply Eau de Parfum, it came with the tagline "works like a medicine and behaves like a drug."
Since then, the brand's creative director Christian Astuguevieille has released perfumes with notes like burnt rubber, brown sticky tape, industrial glue, lettuce juice, warm photocopier toner, and dust on a lightbulb. One was meant to recall the scent of a garage. Their newest scent is Concrete and after a tour of a construction site, the Cut sat with Astuguevieille and perfumer Nicolas Beaulieu to learn about their approach.
Concrete is an unusual inspiration for a fragrance. But you actually didn't want the perfume to smell like concrete at all, just be part of the bottle design.
Christian Astuguevieille: The project came from the idea of creating the object, the bottle with concrete and its use in art and architecture. We created the bottle first and then, we wanted to create a contrast between the raw materials and the scent of sandalwood. We did some trials about concrete smells but didn't want to actually use it for this perfume. I wanted the contrast to be a real surprise.
Nicolas Beaulieu: It was my first time working with Comme des Garçons, but there was a lot of freedom. When Christian briefed us, the idea of sandalwood with the contrast of the raw bottle was always there. Sandalwood is one of the most expensive ingredients in the world. It is very emblematic of fine perfumery. The idea is to create something new and deconstruct it to rebuild it in a different way to create a Comme des Garçons signature.
When Christian told us about the idea, he didn't describe it a lot. He merely said sandalwood. Modern. Broken.
Why broken?
CA: The way I make scents is not classic. I like to to create, destroy, and disassemble to create something new and different.
Among the many scents, what drew you to the one Nicolas created?
CA: So many of the trials were too beautiful. They were too good. I wanted something more original, more interesting. Building a fragrance is about finding the right balance.
What's wrong with too beautiful?
CA: Too beautiful is weird. Too beautiful is worrisome. I'm scared of too beautiful.
Why?
CA: I enjoy faults. I enjoy differences. It's more human.
NB: Christian really said that. We don't hear that a lot.
If you want to create something not too beautiful, then is the desired outcome to create something more ugly?
CA: It's not too good, not bad. It's difficult. You want to find just the right balance.
What makes a perfume too beautiful?
NB: Maybe disruptive is a better word. To me, it's one of the signatures of the brand. You need some imperfection to make the signature of a perfume very present and memorable. When something is too round and too perfect, it is too forgettable, which is not Commes des Garçons at all. In scents you can remember, there is something sticking out.
What is the imperfection in Concrete?
NB: Sandalwood is very woody, creamy, and sensual — but I wanted to twist it. I would say the spices and the metallic note make the imperfection. There is a metallic note around the rose oxide. It smells like a rose in metal. You smell it from top to back of the fragrance. It disrupts the round sandalwood note. It is not something you would usually find in sandalwood.
There's also uniquely no marketing, no story, no person attached to Concrete.
CA: I like making new fragrance with new materials and being creative. I am not at all into this marketing thing about stories.
I know you don't test fragrances with a user group before a scent is released. How do you hope people will react to Concrete?
CA: I hope to seduce people with it. I hope that even people who don't like sandalwood will like the originality of this one. I hope that people who really like sandalwood will be attracted to this one. But I know some people will like it and some won't.
If you buy something through our links, New York may earn an affiliate commission.