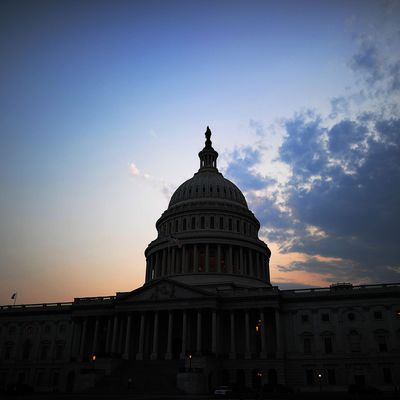 The U.S. Capitol.
Photo: JEWEL SAMAD/AFP/Getty Images
Less than a month after launching the hashtag #MeTooCongress, California congresswoman Jackie Speier testified in front of the Committee on House Administration on Tuesday to share some of the stories of sexual assault that her office has received in the past weeks. According to Time:
"From comments like 'Are you going to be a good girl?,' to harassers exposing their genitals, to victims having their private parts grabbed on the House floor, women and men have trusted me with their stories," Speier said. "All they ask in return is that we fix our abusive system and hold perpetrators accountable."
Speier also claimed that based on the stories she's been told, two of the people accused of sexual harassment are current members of the House, one Republican, and one Democrat.
In addition to Speier's testimony, Representative Barbara Comstock, a Republican from Virginia, recounted an incident to the committee in which, via Time:
[…] a former staffer told her that a congressman asked a staffer to bring some materials to his residence, greeted her at the door wearing a towel and exposed himself after he invited her inside. Comstock said the staffer later left her job.
The hearing follows the wave of sexual-harassment allegations that have emerged in the wake of the Harvey Weinstein accusations. Last week, the Senate implemented a first mandatory sexual-harassment training for the first time in history (!!) and Speier also introduced new legislation that would streamline the "toothless" process of reporting harassment.
"The Congress of the United States should be the one work environment where people are treated with respect, where there isn't a hostile work environment," Representative Jackie Speier, told the New York Times earlier this week. "And frankly, it's just the opposite. It's probably among the worst."
Read more accounts of harassment in Congress here.