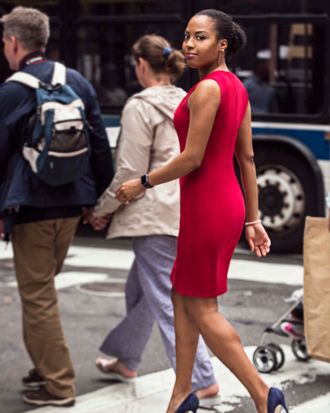 Alana St. Aude wears Gianvito Rossi pumps.
Photo: Victoria Stevens. Produced by Biel Parklee.
In Her Shoes is a column about what real women wear when they need to get things done.
Corporate law can be a stuffy world, especially when it comes to style. But Alana St. Aude still manages to have fun with her wardrobe. A Harvard Law School–educated attorney, St. Aude works at a major firm in New York City where she often puts in 12-hour days, not to mention countless hours on the weekend. Her job entails negotiating financial agreements with other attorneys and her clients, an array of banks and private-equity firms. So she's constantly aware that she needs to put forth a sophisticated, mature image, especially to the partners she hopes to impress.
St. Aude's biggest fear is looking young and inexperienced, so she takes extra care in choosing polished clothes. That means an extensive collection of neutral blazers and sheath dresses. But it's not all boring; she gets to express her personality with flashy heels. Read on to learn about her extensive collection of desk shoes, her go-to outfits for meetings, and the time she panicked at a conference because everyone was so well-dressed.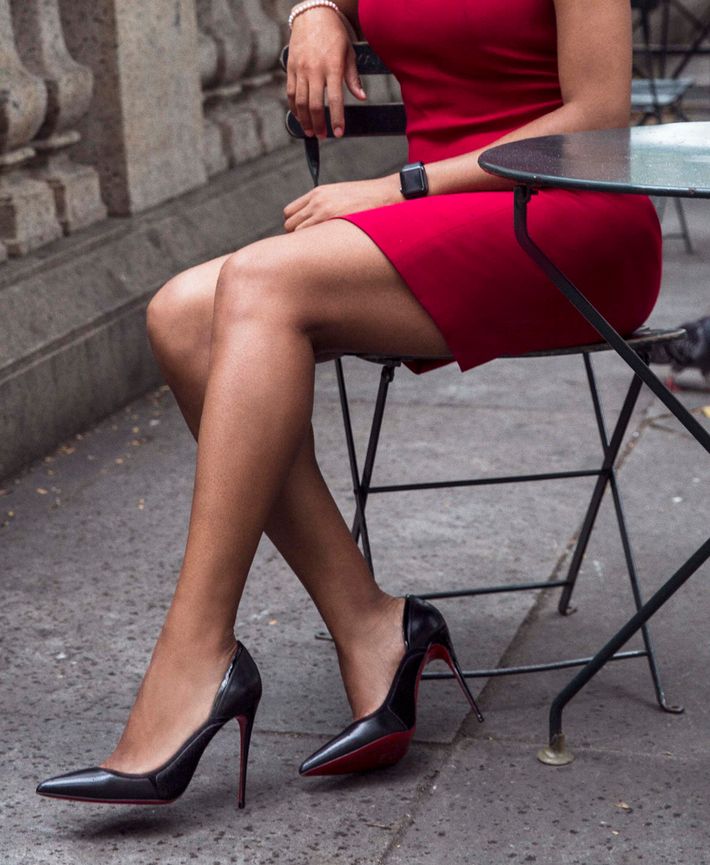 ​On how she learned to dress for work: When I was a summer law clerk at the U.S. Attorney's Office in the Criminal Division, our supervising prosecuting attorney ​always wore the funkiest high heels with her suit. She said if she had to wear dark clothes every day, she wanted to show her personality somehow — be it bows, bright colors, or patterns. It was so cool, and it inspires me to do the same. The only rule I have to abide by at my company is no peep-toes.
On her collection of desk shoes: At any time, I might have eight or more pairs of shoes in my office. Even though I'm 5'8", I'm not afraid to wear heels, but I like to stick to styles that are no higher than 4" in professional settings. I always keep two black leather pumps at my desk, plus these Prada patent block-heel shoes with silver buckle that are good for meetings. There are also two pairs of red suede shoes, a pair of Michael Kors beige shoes, and these Stuart Weitzman burgundy block heels. ​I also have Jimmy Choo leather ankle boots that I wear for more casual after-work affairs. The only downside to my extensive desk collection is if I have other plans, I have to remind myself to bring some shoes home with me to pack.
On her biggest shopping challenge: Since I wear a size 10.5 shoe, it can be a struggle to find the right heels. Louboutin's Serianina pumps are incredibly comfortable despite their pointy toe and even have some stretch.
On what she wears to big meetings: I'll wear one of my many suits. My Theory dress and matching blazer is a favorite, but J.Crew, Calvin Klein, and Ann Taylor are also good go-tos. I'm not afraid to try a print — I have a black-and-white checked Reiss suit. I paired it with red pumps to moderate a legal panel geared toward attorneys of color in the city and got so many compliments.
On a recent closet freak-out: I attended a huge conference for female attorneys of color in New Orleans. The participants go all out: they come with their best Louis Vuitton bags, Louboutin heels, Chanel purses and more. I was advised to check a suitcase and bring multiple outfits per day but I didn't and had to panic-order some extra clothes to my hotel room from Rent the Runway. I'm definitely upping my game before the next conference. It always feels so powerful to look your best — you want to show you're on the top of the game in your profession.
On commuting shoes: Comfort is key for me during commutes, especially going up and down the subway stairs. I love Cole Haan's flats, but if I'm in a rush it's Vince slip-on sneakers.
On what she wears when she goes out: After hours, I go to everything from casual friend hangouts to cocktail parties to full-blown galas. I usually work long hours, so ideally I'll wear the same outfit from work (unless the event is super formal). This time of year, my favorites are these Sandro ¾ sleeve navy blue or black dresses. I also love Black Halo sheaths — I swear I saw Gabrielle Union's character on Being Mary Jane wear the navy one I own. Around the holiday season, red dresses feel festive: I have two by Diane von Furstenberg and Elie Tahari. A friend from college introduced me to Cache and they have some clutch pieces. Most of my clothes are black or blue, which is why I often need to spice up the shoes.
On how her wardrobe changes during the week: On Mondays, I'm well rested, but it's still the start of a long week. I usually want something comfortable and easy but on the conservative side, like a dress with a black blazer. I'll add a nicer handbag like my Alexander McQueen or Louis Vuitton handbag. Fridays are much better; I can wear jeans! My favorites are these grayish black Maje jeans or Kut From the Kloth jeans which are so comfortable.
If you buy something through our links, New York may earn an affiliate commission.
Production Credits:
Photos by Victoria Stevens
Sittings Editor: Diana Tsui
Produced by Biel Parklee