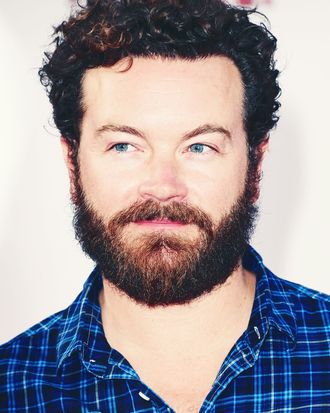 Danny Masterson.
Photo: Jason Merritt/Getty Images
Danny Masterson, the 41-year-old actor and Scientologist best known for his role on That '70s Show, has now been accused of sexual assault by four different women, three of them Scientologists. New York contributor Yashar Ali reported for HuffPost Thursday afternoon that there is "overwhelming" evidence against Masterson, but so far, no charges have been filed.
According to HuffPost, the Los Angeles Police Department opened an investigation into Masterson's behavior in late 2016, after three women accused him of raping them in the early 2000s. In the course of the investigation, a fourth woman came forward to report that Masterson raped her. Several outlets reported on the existence of the investigation in March 2017, and the LAPD referred the case to the district attorney's office in April 2017. Now, it seems, the case has stalled. Per HuffPost:
Despite compelling — what one law enforcement source described as "overwhelming" — evidence, the charges have not been approved for filing. The evidence includes audiotapes, emails sent to and from Scientology officers at the time the alleged rapes happened, forensic computer evidence and a threatening handwritten letter Masterson sent to one of the alleged victims, according to two people with knowledge of the evidence in the district attorney's possession.




[District Attorney Reinhold] Mueller is a highly respected prosecutor in the district attorney's office who is known for his thoroughness and objectivity, which is why two sources in the office are confused that the case, in one source's words, has been "slow rolled."
This is not the first time that a case against Masterson has been scuttled. One of the victims actually reported her rape to the LAPD in 2004, but according to HuffPost, "the case didn't move forward after the Church of Scientology intervened and submitted over 50 affidavits from Scientologists who denied the woman's account."
Masterson has hired Hollywood power attorneys Thomas Mesereau and Marty Singer to defend him, and he has denied the accusations. The district attorney's office has yet to comment on HuffPost's story.
Masterson currently stars alongside his old That '70s Show co-star Ashton Kutcher in the Netflix series The Ranch, which is set to premiere a new season in December. So far, Netflix has not commented on the allegations against Masterson. The company halted production on House of Cards this week after multiple men accused star Kevin Spacey of sexual misconduct.