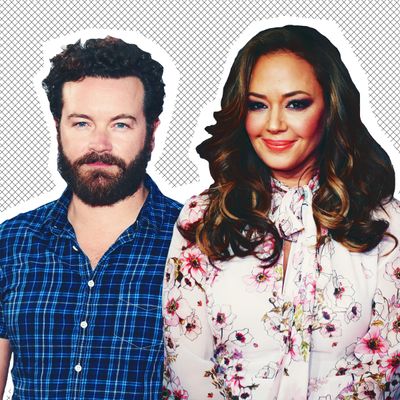 Danny Masterson and Leah Remini.
Photo: Getty Images
On Thursday, HuffPost provided a crucial update on the case against Danny Masterson, the actor and Scientologist best known for That '70s Show. Four women have accused Masterson of raping them in the early 2000s, and the case is currently sitting in the Los Angeles district attorney's office. So far, no charges have been filed — the case has been "slow rolled," according to a source — and Masterson denies the accusations. But the women who say Masterson raped them seem eager to be heard.
Tony Ortega, a journalist who focuses on exposing abuses in the Church of Scientology, reported Friday morning that former Scientologist Leah Remini interviewed some, or all, of Masterson's accusers for an episode of her A&E show Leah Remini: Scientology and the Aftermath. According to Ortega, the episode has been shelved, while the district attorney's office continues to investigate. "We're told that earlier this year, Remini and her co-star Mike Rinder met with the Los Angeles district attorney's office, which expressed concerns about the episode airing while it is considering whether or not to file charges against Masterson," Ortega reports. "Remini, not wanting to jeopardize the investigation, asked A&E not to air the episode, and the network agreed."
The Los Angeles Police Department began investigating Masterson in late 2016 and referred the case to the district attorney's office in April 2017. Per HuffPost, there is "overwhelming" evidence against Masterson, including "audiotapes, emails sent to and from Scientology officers at the time the alleged rapes happened, forensic computer evidence and a threatening handwritten letter Masterson sent to one of the alleged victims," but charges have yet to be approved for filing. Masterson has hired power attorneys Thomas Meserau (who defended Bill Cosby) and Marty Singer (who works with Brett Ratner, among others) to defend him.
We have reached out to Remini for comment about the episode and will update if we hear back.