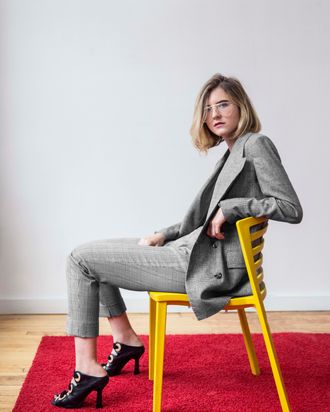 Kate Machtiger wears J.W.Anderson sandals.
Photo: Victoria Stevens. Produced by Biel Parklee.
In Her Shoes is a column about what real women wear when they need to get things done.
"Elegant extraterrestrial explorer" isn't the first phrase you'd expect a business consultant to use when describing her personal style. But Kate Machtiger likes to push the limits of what it means to be creative in an otherwise stuffy industry.
After graduating from Princeton University with a degree in civil engineering, Machtiger went into banking at Goldman Sachs. There, she worked on real estate deals before getting her MBA at Oxford University. Following her degree, Machtiger returned to New York, where she now works as a design strategist for Luminary Labs. The firm's clients range from pharmaceutical giant Pfizer to the FDA. Machtiger's own clients include the Department of Education and the Department of Homeland Security. For them, she does everything from analyzing data to thinking up challenges to encourage students to enter the tech world.
The Cut caught up with Machtiger at her office, where she talked to us about her unique approach to dressing for work. Read on to hear about her pared-down shoe collection, her love of jumpsuits, and how she can make a good suit look super cool.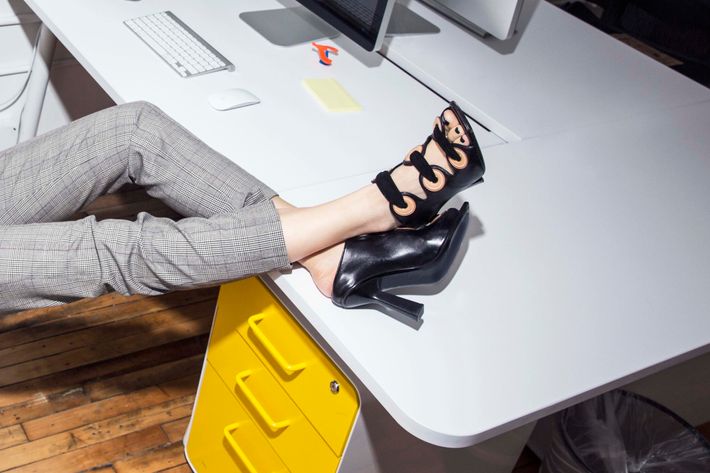 On what she wears to a big meeting: I love jumpsuits because they travel well, they're comfortable, and you stand out without putting in too much effort. I also love suits — anything menswear-inspired, really. I've always been a tomboy (I'm named after Katharine Hepburn), so they feel natural to me.
On her many style inspirations: In the mold of David Bowie, I generally have a character in mind that I want to create: preppy archeologist moves to Japan, Wednesday Addams in mod London, Aladdin at the Bauhaus. It's a process between what's in my closet and what I'm watching or reading or listening to. For example, after I saw Brazil at Nitehawk, I was in '40s film noir suits for a week. Le Corbusier is a personal style icon, as is Pee-wee Herman.
On her pared-down shoe collection: When I worked in investment banking, I had an arsenal. I lived at the office, so my desk was my closet. I'd leave four or five pairs of heels in black and nude at my desk for last-minute meetings, plus plenty of ballet flats. I had a pair of slip-on Vans for all-nighters along with ankle boots if I had to go out straight from the office on a Friday or Saturday night.
These days, I'm more low maintenance. I keep a pair of Stubbs & Wootton evening slippers in my desk. They were the first shoes I stole from my mom's closet and have a dandy quality to them.
On her everyday shoes: I'm either in black patent zip-up ankle boots or all white Vans Sk8-Hi's. My Vans remind me of back-to-school season, when I would spend hours skateboarding in them every day. They'd be destroyed in three months but these days they last longer since I mostly ride a longboard. I'll wear the sneakers with suits or dress pants, while the boots go with jeans. I also just got a pair of all white Doc Martens — they add a slight edge without being too punk rock for a corporate setting.
On what will get her in high heels: Working in design, I notice details. Take these J.W.Anderson sandals. They were odd — they seem like they could comfortably belong in both the year 2073 and 1873. Plus their structure appealed to me. The heel reminds me of a Felix Candela umbrella column.
On her weekday-versus-weeknight approach to dressing: Lately my uniform consists of a long white ADAY button-down, black J.Crew sweater, leather pants, and black patent boots. I need to separate my work clothes from my life clothes, which means that my outside-the-office attire has become more experimental as my jobs have gotten more creative. My new evening look has been big pants, a cropped tee or tank, a chain choker, a beret, and either my white Doc Martens, YRU Hologram Slayr Boots, or Skechers D'Lites. I might add a kitschy Hawaiian shirt and a waist chain. I hoard bizarre accessories and patterns.
On making the right impression: We work with everyone from Fortune 500 pharmaceutical companies to NASA to major national foundations, so it's a wide range of environments and subject matter. I tend to dress based on what meetings I have that day. If I'm coming as the project lead, I want to be taken seriously so I pare it back. Other times I'm the creative voice so I can go more avant-garde. I often interact with end-users or stakeholders in the field. In those situations, I try to be much more approachable and casual.
If you buy something through our links, New York may earn an affiliate commission.
Production Credits:
Photos by Victoria Stevens
Sittings Editor: Diana Tsui
Produced by Biel Parklee