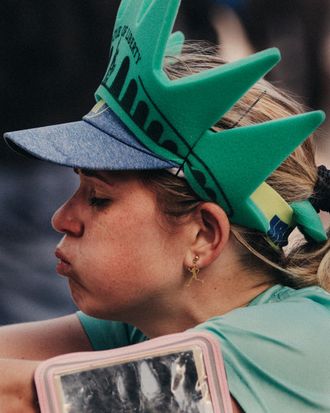 You'll see plenty of these faces come Sunday in New York City.
Photo: Chadwick Tyler
This Sunday over 51,000 runners will be hitting the streets of all five boroughs for the New York City marathon. For some people it's no big deal, just another race. But for most, it's a big challenge both physically and mentally.
To help ease some of the jitters and get runners prepped, District Vision is hosting a pop-up called The Mindful Athlete Shop at the New York City location of Snow Peak. The brand is best known for making cool, yet functional running sunglasses, so naturally there will be a special selection of limited-edition styles. They also partnered up with Falke on compression socks meant to help with recovery plus there's a meditation toolkit for sale. The latter will have yoga blocks, incense, and a Palo Santo skin potion.
Also on deck will be a few food-related items like a matcha bar and custom nutrition by Maurten, a Swedish, natural sports-fuel maker. They'll also be conducting panel discussions and meditation sessions.
The Mindful Athlete Pop Up, 59 Crosby St.; Runs from November 3 to November 6 from 11 a.m. through 8 p.m.