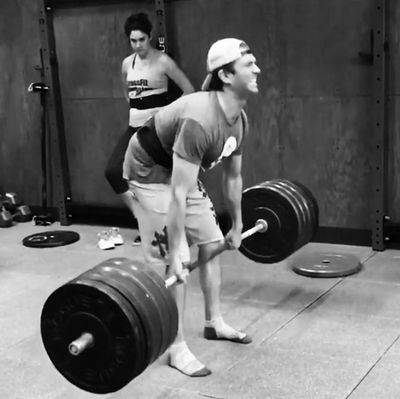 Gettin' swole.
Photo: Courtesy of Instagram/donaldjtrumpjr
Unlike his father, who believes humans are born with a finite amount of energy that shouldn't be squandered through exercise, Donald Trump Jr. is something of a fitness fanatic.
When he's not posting screenshots of his own tweets, the First Son's Instagram is full of pictures and videos of him running, fishing, CrossFit-ing, and wearing head-to-toe camo like the true Manhattan-raised, privately-educated, real-estate-heir outdoorsman he is. And say what you will about Don Jr.'s "poor judgment" and "failure to grasp basic political concepts," but his commitment to physical fitness is truly impressive. Just last week, he posted a video of himself dead-lifting 375 pounds with only his lower back!
I know what you're thinking: How can I transform myself into a finely sculpted Adonis like Don Jr., with a lumbar spine that just won't snap, and trapezius muscles strong enough to hold up a minimum of 14 pounds of hair gel a day? Don't worry, we have the answers. Here are some of Donald Trump Jr.'s best fitness tips, according to his Instagram.
If you don't talk about CrossFit, it never happened.
The thing about CrossFit is that, like eating an açai bowl or doing yoga poses on a cinematic hike, unless you post a picture of it on social media, your body will not reap the benefits. DJ clearly knows this, which is why he finds ways to mention that he does #crossfit whenever possible.
Taking an animal's life boosts your metabolism.
Both Don Jr. and his brother, The Blond Son, love hunting. They're also both in great shape. Coincidence? No! While you may not have access to leopards or elephants to slaughter, watching the life drain out of a pheasant, or a wild salmon, or even your kid's guinea pig, can significantly increase your body's ability to burn fat.
Don't shy away from power tools.
Too often, people overlook the importance of incorporating chainsaws into their fitness regimens … but not Don Jr.! Swinging around a chainsaw is a great way to build muscle in your back and delts, and to show everyone what a big, strong boy you are.
Carry your weights around like a backpack because you are blissfully unburdened by the pressures of economic and social inequality.
It's a great total-body workout!
Camo. Camo. Camo.
I cannot emphasize this enough: Don Jr. is. All. About. Camo. Purchasing an entire camo wardrobe forces you to get out and stay active. Here are a few pictures of him in his favorite pattern — good luck trying to spot him!