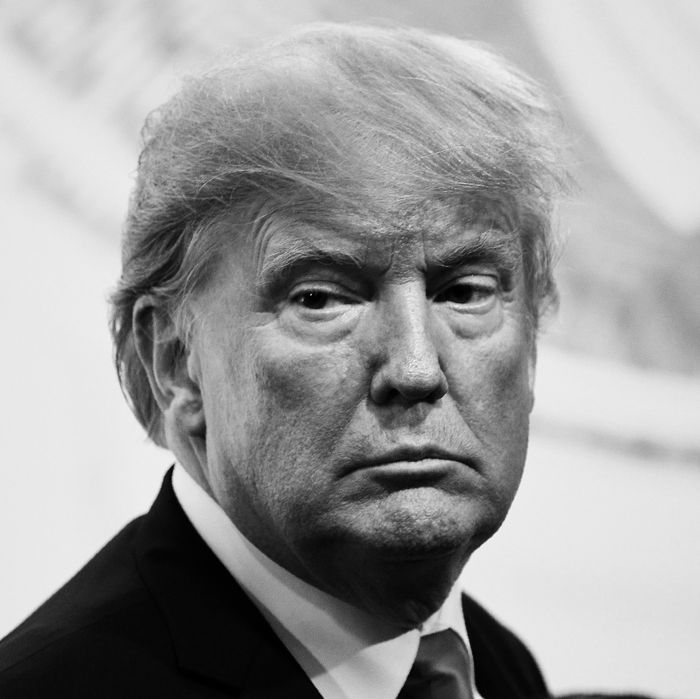 Donald Trump.
Photo: Manan Vatsyayana/AFP/Getty Images
Before Twitter was around to help him fat-shame foreign leaders, and denounce the media as "the enemy of the American People," Donald Trump had to find other ways to exact petty revenge on his enemies, including a Real Housewives favorite: dramatically pouring wine on someone. According to a new memoir by former Vanity Fair editor Tina Brown, during a black-tie gala at Tavern on the Green in 1991, the then-real estate mogul and current Commander-in-Chief of the United States Armed Forces poured a glass of wine down the suit of Marie Brenner, a reporter who had written an unflattering piece about him earlier that year.
She was sitting demurely in her black dinner suit at the Parks Commissioner Betsy Gotbaum's table when she felt something cold and wet running down her back. […]




Other guests at the table started pointing and yelping, 'Oh my God! Look what he just did!' The 'he' in question was Donald Trump! She saw his familiar Elvis coif making off across the Crystal Room.
Trump, apparently pleased with the move, repeated it a couple of years later with businesswoman Leona Helmsley, "Page Six" reports. He told a reporter in 2003: "I took an entire bottle of red wine and poured it into the hood [of her coat]." When asked if he had a choice between red and white whine for his attack, Trump answered: "Yes. White's not nearly as effective."
Ah, to go back to the days when Trump's thin-skinned petulance didn't edge us to the brink of nuclear war. How quaint.