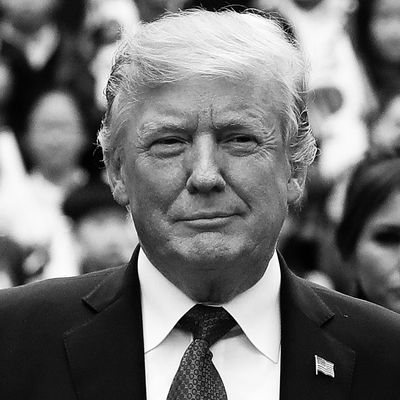 Donald Trump.
Photo: Chung Sung-Jun/Getty Images
Donald Trump has never been constrained by suffocating norms like "helping hurricane victims" or "not suggesting you would date your own daughter," and he's not about to start now. According to The Hill, before the president landed in Beijing for the third leg of his 11-day Asia trip, a White House official told reporters aboard Air Force One that Trump planned to continue tweeting, even though Twitter and other Western social-media platforms are banned in China.
"The president will tweet whatever he wants," the official said. "That's his way of communicating directly with the American people. Why not? So long as he can access his Twitter account … I'm sure we've got the gear aboard this airplane to make it happen."
The Chinese government strictly controls internet access, and though some are able to bypass the country's firewall with virtual private networks (VPNs), and the government has been known to briefly allow social media access for high-level foreign visitors, cybersecurity remains a serious issue in China. To avoid potential hacking, most White House staffers were reportedly advised to leave their personal phones behind, and bring burner phones on the trip, which will be discarded when they get back.
But Trump will not be tamed. On past trips abroad, the Bad Teen in Chief has engaged in a strange handshake-fight with French president Emmanuel Macron, aggressively shoved his way to the front of a group photo, and been transfixed by a beguiling glowing orb.