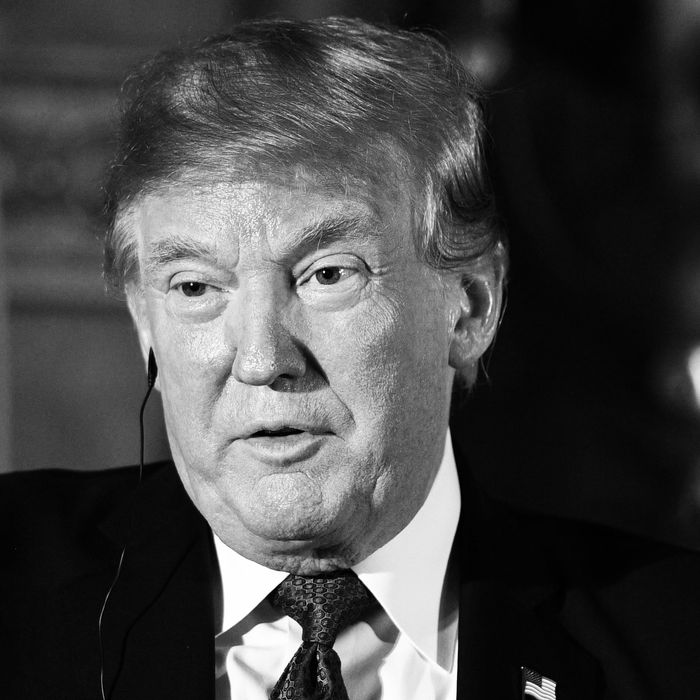 Donald Trump.
Photo: JIM WATSON/AFP/Getty Images
Four people were killed in California on Tuesday, when a gunman went on a murderous rampage, shooting at random victims, including students at an elementary school. In response, the President of the United States, Donald J. Trump, tweeted out his condolences … for the victims of last week's mass shooting in Sutherland Springs, Texas.
According to Vice News, at 10:34 p.m. on Tuesday night, the president wrote in a since-deleted tweet: "May God be with the people of Sutherland Springs, Texas. The FBI and Law Enforcement has arrived."
Trump also tweeted his sympathies for Sutherland Springs last week, shortly after 26 people were killed and 20 injured while worshiping at the town's First Baptist Church, and as one Twitter user observed, his two tweets were remarkably similar:
Is Donald Trump copy-pasting his condolence tweets? Is he so careless about his tweets, which his staff has called his "main way of communicating with the American people" that he can't even be bothered to check that he's tweeting about the right mass shooting? Troublesome questions we probably don't want answered.
In the meantime, the president is back to tweeting about other important issues: