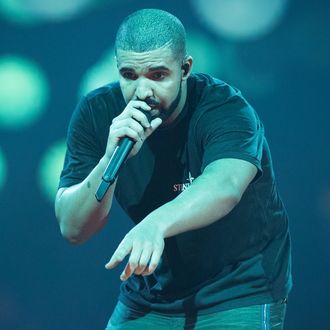 Drake.
Photo: David Wolff - Patrick/Redferns
When sensitive rapper Drake isn't busy stocking up on Birkin bags for his future girlfriend, he's apparently out there defending women from sexual predators. Case in point: At a recent post-concert performance in Australia, he tells a man in the crowd to "stop touching girls."
"Page Six" notes the thirsty Canadian was performing at the Marquee nightclub in Sydney after his concert on Wednesday, when he spotted a male fan inappropriately touching women. Video shared on Instagram shows the rapper stopping mid-set to call out the fan for being a dick.
"If you don't stop touching girls, I'm gonna come out there and fuck you up," Drake said into the mic, while pointing at the man. He added for emphasis, "If you don't stop putting your hands on girls, I'm gonna come out there and fuck your ass up."
Yet another example of Drake's devotion to us all.