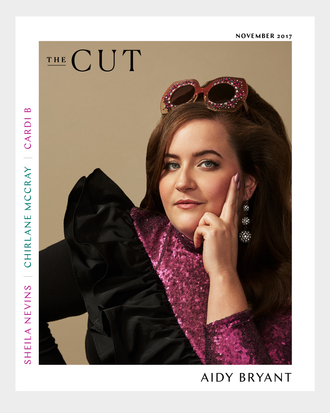 Photo: Christine Hahn. Style by J. Errico.
I want a magic face cream. Something lemon-y mixed with paint stripper. A cream so thick with diamond particles and borax and lava that it could erase the 4,000 lines etched into my face after reading the news for the last month.
I want some sleep. I want to stop grinding my teeth. I want to wake up with endless wells of empathy so I can absorb every one of the emails I've been forwarded: screen-grabbed text messages from a man offering to "mentor" a friend if she'd tell him in great detail how many times a day she makes herself cum; letters from women propositioned by "happily" married bosses; links to Google Docs of "shitty" men I might encounter in media.
I want to collage lady-mag ransom notes that say SHAME and mail them to every man in America — even the "good" ones. I want those letters to sit unopened for weeks, until one day, when the men least expect it, they decide to go through their mail and over coffee they casually open the letters and are reminded: SHAME.
I want to build a national Rose McGowan monument and make it irresistible to the touch, but if you so much as reach out with one little pinky it burns your whole hand to a singed stump.
I want to feel less furious. Less unsettled. I want to write a novel about an ordinary man in a mid-level position of power who knew he had abused women and was waiting to be outed. I want to capture the twilight of uncertain fear, the swirling cesspool of anger and panic he must be swimming in for the first time and the denial necessary for him to have carried on with his life all along.
I want to understand what men know about WANTING. Because men know about wanting. Men have been told for their whole lives that to be a man means to take and do what they want. I retain so few specifics from what I read in high school, but for some reason I have never forgotten this bit from Saul Bellow's Henderson the Rain King:
"Now I have already mentioned that there was a disturbance in my heart, a voice that spoke there and said, I want, I want, I want! It happened every afternoon, and when I tried to suppress it got even stronger. It said only one thing, I want, I want! And I would ask, 'What do you want?' But this is all it would ever tell me."
That voice told Mark Halperin to rub his boner on unsuspecting female assistants. It told Harvey Weinstein to jerk off into a potted plant, among other things. And Bellow told me what I was already beginning to understand: Men want what they want, and that wanting is more powerful than what I want. And the crazy thing is how much I liked that book, even identified with Henderson — bored in my high-school classroom, sitting with all my unexpressed wants.
I want. I want. I want. All I want right now is to be around other women that make me laugh, like Aidy Bryant, the Cut's November cover woman. I want to root out more stories and listen intently. I want to talk ad nauseum with Rebecca Traister about shitty men and how we deal with them.
The other day Traister told me, "This is some renegade '70s-era feminist shit going on — I've never lived through anything like it." I want to revel in this moment, even as I am scared and uncertain where it will lead us.
Love,
Stella
On Aidy: Eloquii dress, $139 at Eloquii. Lulu Frost earrings, $250 at Shopbop. Dolce & Gabbana sunglasses, $1,150 at Sunglass Hut.