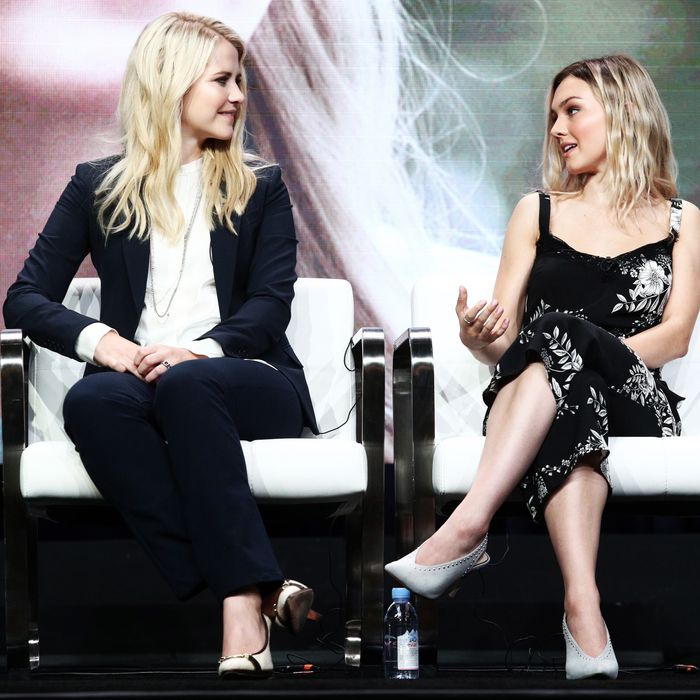 Elizabeth Smart and actress Alana Boden, who plays Smart in the Lifetime movie.
Photo: Frederick M. Brown/Getty Images
One person definitely did not watch last night's premiere of the Lifetime TV movie I Am Elizabeth Smart: the real-life subject herself. She told E! News that while she has watched the film before, she never wants to see it again.
The movie centers on Smart's abduction in June 2002, when she was forced from her bed, led into the woods at knifepoint, and held in captivity for nine months. While she told E! that she had read over the script many times, recorded narration, and spent time on the set with Alana Boden, who plays Smart in the movie, watching the completed movie was "terrifying." She described her experience in detail.
"My husband was downstairs watching the kids and trying to put my daughter to bed and I was just upstairs in our bedroom and I was watching it. And I kept thinking, I don't have to watch this right now! I don't want to watch this! I'm just going to put it away, I can come back after I've had a breather," she said. "Then I said, no, I have to watch it. I have to know how it turns out … just because it was so accurate. It was terrifying and so intense and part of me was like I don't know if I want to feel all of these emotions again."
Despite her reaction, Smart told E! that the movie is exactly what she wanted it to be, and is overall a great movie — just not one she wants to watch.