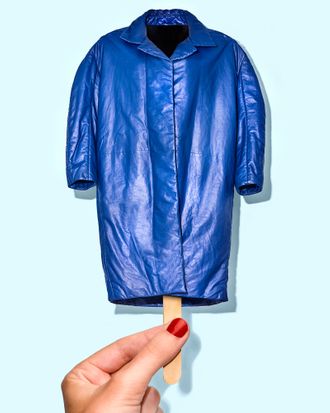 Finer Things is a photo series with a playful approach to elusive, glamorous fashion items we're fixated on right now.
The best leather, like the best ice cream, is smooth, buttery, and decadent. But unlike a Creamsicle, a leather jacket is one indulgence best enjoyed when the weather turns cold.
Take this oversize blue Marni number, which is meant to swaddle you in cozy warmth. Worn on the runway layered over a fuzzy sweater, it was dramatic and luxurious — the sort of item that suggests its wearer knows how to be flashy and practical all at once. After all, isn't this just a fantasy version of a down puffer?
Marni leather coat, $4,340 at Marni, 21 E 67th Street; 212-257-6907