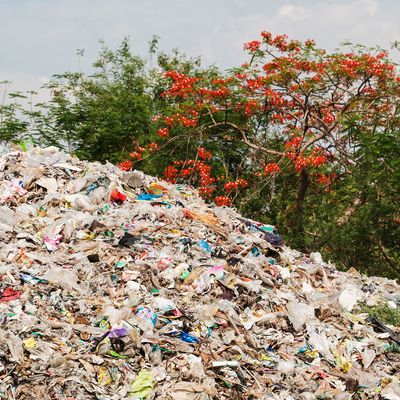 Photo: iStockphoto/Getty Images
According to a new report from Dame Ellen MacArthur's foundation published Tuesday, fashion production currently creates greenhouse emissions of 1.2 billion tons a year. According to The Guardian, that's more emissions than international flights and shipping combined.
The report, which also has a proposal on how to fix things, has already garnered support from longtime sustainable luxury designer Stella McCartney, who called the industry "incredibly wasteful and harmful to the environment." It was also backed by H&M, Nike, and the C&A Foundation.
The findings expose that the textile industry in 2015 accounted for 2 percent of the carbon budget based on a 2 degrees scenario. If unchecked, by 2050 it could increase to 26 percent. The report says that much of the waste is caused by increased clothing sales combined with a declining number of times an item is worn before it is thrown out.
If that doesn't feel bleak enough, the findings also show that clothing production has doubled in the past 15 years, and will triple by 2050 "should growth continue as expected." Less than one percent of material used to make clothing is recycled into new clothing. A truckload of clothing is wasted every second across the world. Consumption of non-renewable resources could triple by 2050 to 300 million tons of oil a year. And half a million tons of plastic microfibers shed during washing ends up in the ocean; 22 million more tons may be added between 2015 and 2050.
But the MacArthur Foundation spends much of its 150 page report offering a possible solution to the problem: a circular textile economy. MacArthur told The Guardian, "today's textile industry is built on an outdated linear, take-make-dispose model and is hugely wasteful and polluting. We need a new textile economy in which clothes are designed differently, worn longer, and recycled and reused much more often." Reworking the current textile economy would require the four steps below.
1. Phase out substances of concern and microfibre release, by aligning industry efforts and coordinate innovation to create safe material cycles.




2. Transform the way clothes are designed, sold and used to break free from their increasingly disposable nature, by scaling up closing rental schemes; making durability more attractive; and increasing clothing utilisation through brand commitments and policy.




3. Radically improve recycling by transforming clothing design, collection and reprocessing; pursuing innovation to improve the economics and quality of recycling; stimulating demand for recycling materials; and implementing clothing collection at scale.




4. Make effective use of resources and move to renewable inputs.
Collaboration among retailers is key. Many sustainable initiatives by brands are "fragmented or only effective at small scale." Actual change to reverse the trend would "demand unprecedented levels of alignment on the case for change, and collaboration." Read the full findings here.