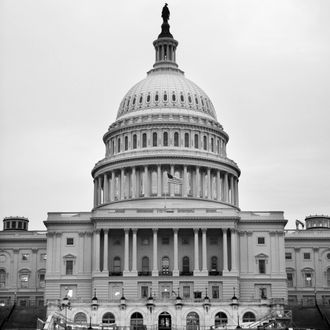 Four female lawmakers allege harassment in Congress.
Photo: Brendan Hoffman/Getty Images
In the wake of sexual-harassment allegations against numerous powerful men, four female lawmakers have now come forward about the abuse they say they endured by their colleagues in Congress.
Speaking with the Associated Press, one current and three former female members of Congress opened up about incidents that occurred years ago, often when they were new to Capitol Hill. The harassment ranged from lewd remarks to repeated advances and groping on the House floor. "It's hostile and embarrasses, and therefore could take away a person's power," former Senator Barbara Boxer told the AP.
Boxer alleged a male colleague made a suggestive comment to her at a hearing in the 1980s — he said he wanted to "associate" himself with her remarks, before adding he also wanted to be "associated with the gentle lady." The comment, she said, was met with laughter. Likewise, Former representative Mary Bono told the AP a fellow member of the House — a man she says still serves in Congress — subjected her to repeated suggestive comments, and told her on the House floor that he'd been thinking about her in the shower.
Current representative Linda Sanchez revealed she was harassed in her early 30s when she was new to Congress, by a "more senior member who outright propositioned me, who was married, and despite trying to laugh it off and brush it aside, would repeat." Another male colleague also allegedly touched her inappropriately on the House floor. Likewise, former congressowman Hilda Solis said she endured repeated unwanted harassing comments by a lawmaker.
None of the women named their harassers in the interviews, though they acknowledged that several of the men are still in Congress. The disturbing revelations come shortly after Representative Jackie Speier opened up about being sexually assaulted by a high-ranking congressional staffer, and after four female senators shared their #MeToo stories of harassment.