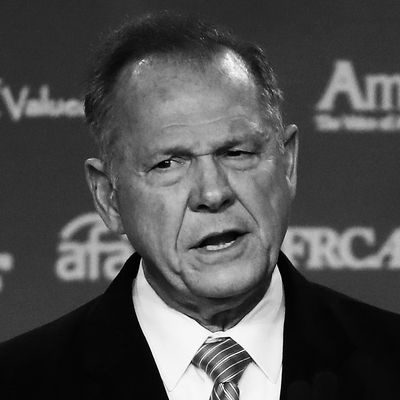 Roy Moore.
Photo: Mark Wilson/Getty Images
A fifth woman has come forward with a sexual-assault allegation against former Alabama Supreme Court chief justice and current Republican Senate candidate Roy Moore. On Monday afternoon, famed attorney Gloria Allred held a press conference with Beverly Young Nelson, who says that Moore assaulted her when she was 16 and he was the 30-year-old assistant district attorney of Etowah County, Alabama.
Nelson says that in 1977, Moore was a regular customer at the Old Hickory House, the restaurant where she worked after school, and flirted with her often, though she did not reciprocate. In December of that year, she says, she brought her yearbook to work and he asked to sign it, which she found flattering. (Allred presented the signed yearbook during the press conference.)
A week or two later, Nelson claims, she worked the closing shift at the restaurant and was waiting for her boyfriend to drive her home. She says he was running late and Moore offered her a ride. Nelson accepted, at which point she alleges Moore drove to the deserted, dark back of the restaurant and began groping her breasts and trying to force her head towards his crotch.
"I was terrified … I thought he was going to rape me. I was twisting and struggling and begging for him to stop. I had tears running down my face," Nelson says. "At some point he gave up and he then looked at me and told me 'You're just a child. I am the district attorney of Etowah County and if you tell anyone about this, no one will ever believe you.'"
Nelson says he then finally let her leave the car, and she quit her job the next day. Over the years, she's told her sister, mother, and husband about the alleged assault but was inspired to go public following the bombshell Washington Post story in which four women came forward to say that Moore pursued them when they were between the ages of 14 and 18.
Moore's supporters have either slammed the accusations as false or defended his alleged actions. Moore himself has taken many positions, from saying he didn't remember dating teen girls (among other things), to outright denying that it ever happened, to threatening to sue the Washington Post.
Nelson dismissed any potential accusations that this was a politically motivated accusation, saying that she supported Trump. "This has nothing to do with Republicans or the Democrats," she says. "This has everything to do with Mr. Moore's assault when I was a teenager. I thought I was the only victim."
This post has been updated throughout.