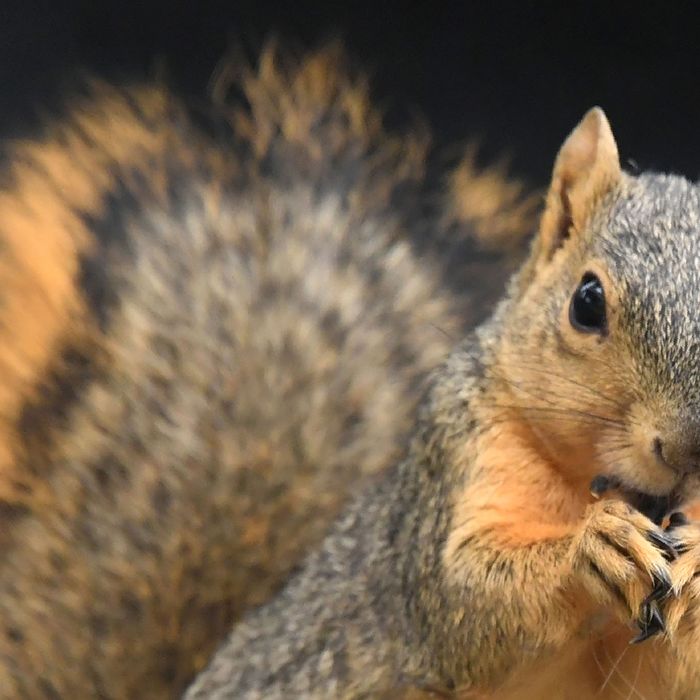 There's no love like a squirrel's.
Photo: Frederic J. Brown/AFP/Getty Images
Ryan Boylan of Clearwater Beach, Florida, is facing what is perhaps one of the most difficult decisions of his life: Would he rather give up his home or his pet squirrel? As shown in an emotional video clip on WFLA, Boylan's condominium association filed a complaint that says he has violated his lease. But because Boylan can't even begin to imagine life without her, he's prepared to fight.
Boylan met his dear pet in late 2016 when he rescued the damsel-in-distress after Hurricane Matthew hit Florida. He took her into his home and named her Brutis, and they've been happy ever since.
"Ever since then, I mean, oh my God, I can't imagine not being around her," Boylan told WFLA.
However, when a dog chased her up a tree in April, property management found her and somehow discerned that she wasn't like the other squirrels. Last month, his condo association sent him a notice saying to either give up Brutis or get evicted. While Boylan got a doctor's note in July to qualify Brutis as an emotional-support animal, attorneys wrote in the complaint that he didn't submit the official paperwork in time or get the condo association's approval.
According to the report, Boylan contacted the Office of Human Rights and claimed discrimination, who then sent a letter to his condominium. However, few are able to understand Boylan's relationship to Brutis.
"It's just like with any animal, you can have the nicest dog and they could bite somebody, it's no guarantee," Sherry Arfa, a former condo board member, told WFLA, bringing up liability. "As I said, if it was a gerbil or something that your grandkid had hiding under the bed, I'm sure that would be fine, but a squirrel is a wild animal."
Only time will tell whether or not this pure love between man and squirrel will prevail.