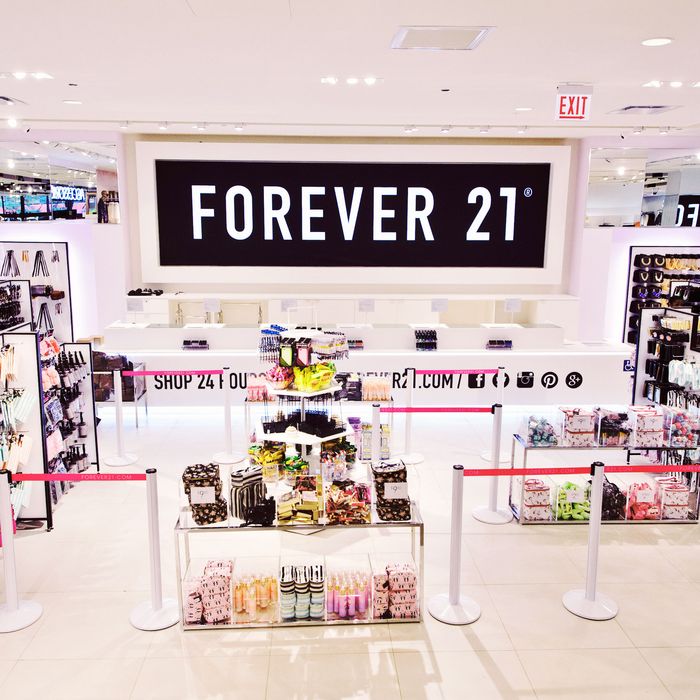 Forever 21.
Photo: Timothy Hiatt / Stringer/2014 Getty Images
A former employee of the retail giant Forever 21 is suing them for at least $2 million, WWD reports. The suit, filed in New York by the former employee identified as Jane Doe, accuses Forever 21 of negligence and invasion of privacy. Doe claims she found a camera in an employee restroom in 2011, and video footage of her has made its way onto "multiple pornographic web site platforms." It is unclear if Forever 21 ever discovered the camera. Doe discovered the footage last year.
Doe is holding Forever 21 liable for "negligently, recklessly and wantonly allowing a person(s), whose identity is unknown to plaintiff, to enter the employee locker room and the employee restroom, located in the store."
In the complaint, she says that the employee locker room and restroom were not equipped with a security system. Neither did the employer "keep a record of non-store employees and/or other unauthorized persons entering into the area designated as the employee locker room of the employee restroom." She says that the "extreme emotional damages" from the event should be valued at at least $2 million.
Forever 21 has not yet commented on the lawsuit.