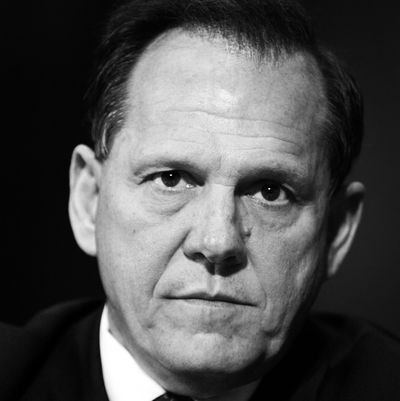 Roy Moore.
Photo: Matthew Cavanaugh/Getty Images
Four women have accused Alabama judge and current Republican Senate candidate Roy Moore of romantically pursuing them while they were teenagers, and he was in his early 30s. In a Thursday report by the Washington Post, Leigh Corfman, Wendy Miller, Debbie Wesson Gibson, and Gloria Thacker Deason say the conservative judge pursued them in the late '70s and early '80s, when he was working in the district attorney's office.
Leigh Corfman said she was 14 when Moore first approached her and her mother outside a courtroom in Etowah County, Alabama. When Corfman's mother went into the courtroom for a child-custody hearing, Corfman says Moore offered to watch her, before asking for her number. He allegedly picked her up near her house a few days later, and drove her to his home where he stripped down to his underwear, took off her shirt and pants, and touched her over her undergarments.
Corfman also said that she was hesitant to come forward with her allegations against Moore, because she was worried her three divorces and financial troubles would undermine her credibility. "There is no one here that doesn't know that I'm not an angel," she said of her hometown.
The three other women were between the ages of 16 and 18 when Moore reportedly approached them. They said Moore took them on dates, but that he did not force them into any kind of sexual contact.
Some of the women said they felt flattered by Moore's attention, and it wasn't until years later that they realized his advances were inappropriate.
"Now that I've gotten older, the idea that a grown man would want to take out a teenager, that's disgusting to me," Wendy Miller told the Post.
Moore has denied the allegations against him, saying in a statement obtained by Breitbart News: "This garbage is the very definition of fake news and intentional defamation."
The special election to fill Attorney General Jeff Sessions's seat in the Senate will take place on December 12, 2017.
Read the full story here.