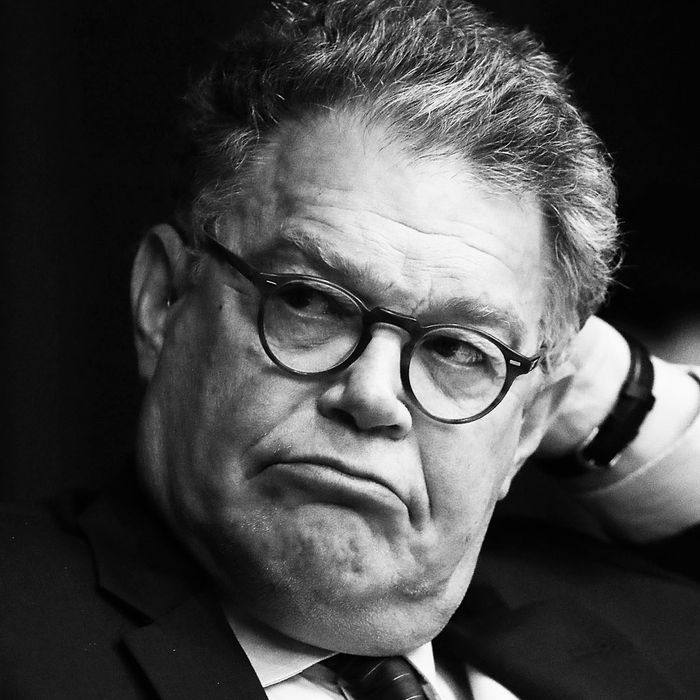 Senator Al Franken.
Photo: Joe Raedle/Getty Images
Two more women have come forward to accuse Senator Al Franken of inappropriate touching, the Huffington Post reports. The women, who spoke anonymously out of fear of retribution, allege that Franken grabbed their butts, at two separate events. These are the third and fourth allegations against the senator.
Last week, radio host Leeann Tweeden alleged that Franken groped and kissed her without consent in 2006. On Monday, another woman, Lindsay Menz, told CNN that Franken groped her at the Minnesota State Fair in 2010. Leading Senate Democrats have since called for an ethics investigation.
One of the women told HuffPost that Franken groped her when they posed for a photo in June 2007, at the Minnesota Women's Political Caucus in Minneapolis.
"My story is eerily similar to Lindsay Menz's story," the woman said. "He grabbed my buttocks during a photo op."
The other woman alleges Franken touched her butt her during a Democratic fundraiser in 2008. "I shook his hand, and he put his arm around my waist and held it there," the woman said. "Then he moved it lower and cupped my butt."
The woman says that Franken then suggested they go to the bathroom together.
In a statement to HuffPost at the time of publication, Franken said, "It's difficult to respond to anonymous accusers, and I don't remember those campaign events." He added: "I can categorically say that I did not proposition anyone to join me in any bathroom."
Then, on Thanksgiving, Franken released a statement apologizing to the women he offended and his constituents.
"Some women have found my greetings or embraces for a hug or photo inappropriate, and I respect their feelings about that," Franken said. "I've thought a lot in recent days about how that could happen, and recognize that I need to be much more careful and sensitive in these situations. I feel terribly that I've made some women feel badly and for that I am so sorry, and I want to make sure that never happens again. And let me say again to Minnesotans that I'm sorry for putting them through this and I'm committed to regaining their trust."