On a recent Thursday in lower Manhattan, I sat at the well-worn kitchen table of artist-chef Laila Gohar. At the edge of the wooden surface, nestled among an open wine bottle and some tasteful pottery, lay a humble sweet potato, into which three short sprigs of greenery had been inserted. It was a whimsical gesture — a "floral arrangement" as imagined by an alien farmer or a child gnome.
A few days later, I scrolled through Instagram and happened upon the feed of Mexican designer Carla Valdivia. She and her collaborator, Roberto Sanchez, had decorated a warty golden squash with what appeared to be green dandelions and spider chrysanthemums, finishing it off with an acid-green laceleaf, photographed against a sky-blue backdrop. It reminded me of a more twisted version of the work of Meta Flora, the New York–based florist responsible for the arrangements at the downtown restaurant Dimes. I texted a co-worker, "Have you noticed something fucked-up going on with floral arrangements lately?" She sent me back a photo of the first issue of Broccoli magazine, featuring a delicate, asymmetrical cluster of leaves and buds made to resemble a traditional Japanese Ikebana floral arrangement. The twist: This one was made of weed.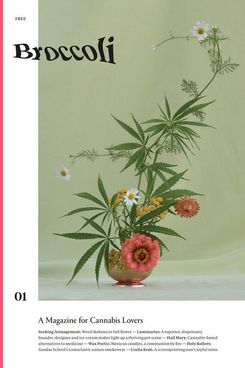 Ikebana (pronounced ee-ke-ba-na), for those unfamiliar, is the Japanese art of arranging flowers. The centuries-old discipline features spare, off-center compositions of local and seasonal foliage, positioned to emphasize form, line, and color. The practice evolved with Buddhist philosophy, rooted in minimalism and precision, with plants chosen carefully for their symbolism. And it's an object of renewed interest of late: Deborah Needleman, writing for T Magazine, attributed Ikebana's contemporary appeal to "its direct and personal connection to nature, its awareness of and emphasis on decay in an era in which our own ecological and environmental ruin feels more vivid than ever." True. But there's also something else happening that has less to do with nature and more to do with attitude.
Freakebana (pronounced free-ke-ba-na) is what I am calling it. The turnt cousin of Ikebana, Freakebana is the art of arranging whatever-the-hell, in a way that nods at the traditional Japanese art form, but subs out years of study for a naive, new-wave naturalism. In Freakebana, the components are more likely foraged from the corner deli, as opposed to a Shinto garden. Good Freakebana mixes sparse, eccentric elements for maximum surprise. Say: pink carnations, cubes of jello, an air plant, and Maldon salt crystals.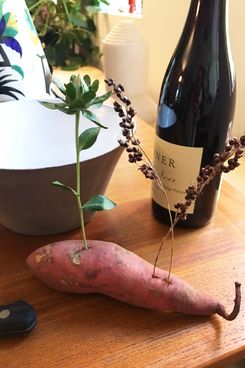 Gohar credits her new love of this style to Bruno Munari's book A Flower With Love — a 1970s take on Ikebana, via an Italian modernist. "You just have to have an eye and find odd things that can be arranged into something meaningful. A potato and a long piece of grass, a gourd and feather, a sidewalk flower and a wine cork," she explained.
Valdivia told me she never expected to get into flowers. "I was inspired to create with flowers because I watched my dad doing it when I was growing up. I started playing around. Later I remember seeing the arrangements of Brrch Floral at a wedding in New York and thinking I'd like to do things like that. When I lived in New York, I couldn't afford flowers, but when I moved to Mexico City I found a huge, cheap, 24-hour flower market full of exotics and plants. My best friend, Roberto, was making trips to this market too. It was his idea to start Flores La Fe, which means 'the faith.' Our first flower show was last March in an orchid research center in Xalapa." The pair titled it Be Flowers, after a poem by Charles Cros:
Don't say anything evil
Don't say anything good
Be flowers
Be flowers
In these troubled times
smoked out with coal
Be roses and lilies
"The impulse to create this kind of beauty is rooted in the need for goodness around us. It's easy to be overwhelmed by bad news," Valdivia told me. La Fe have since been in a total of three shows and began getting requests for arrangements. But they kept the punky spirit. "Our most expensive sale was 800 pesos, or about $40," she laughed.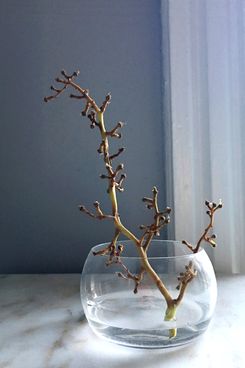 In the past several years, romantic, farm-to-vase florists like Floret and Saipua have easily dominated Instagram — who can resist the allure of peonies and roses? While those ladies remain the champs of lush, pastoral centerpieces, I'm ready for this more hallucinogenic trend. This week, testing the waters for my theory, on a lark, I posted on Instagram a picture of a single naked grape stem upside down in a cognac glass. It was a hit.
The mutant spirit of Freakebana celebrates the opposite of abundance. It can be channeled easily while sitting at a table with friends. You don't need acres of land or deep pockets, just a willingness to see the potential in banal produce, flowers, marijuana, and other stray detritus — remixing them to seem intentional, maybe even beautiful.
A gorgeous coffee-table book you should own if you like this stuff:
If you buy something through our links, New York may earn an affiliate commission.