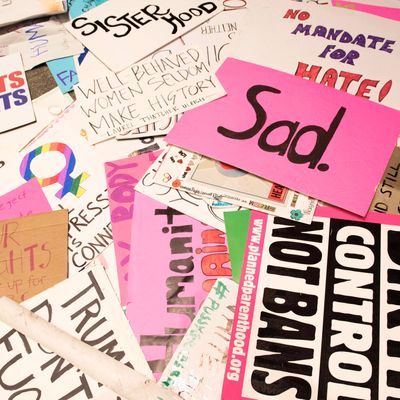 Protest signs.
Photo: Steve Exum/FilmMagic/Getty
Finally, what you've been saying for the past 11 months has been proven right: A new study by Gallup found that life in America has been far worse in 2017 than it was in the distant past — and by that we mean 2016, if you can even remember that far back anymore.
According to the study, overall well-being among adults in the U.S. declined "substantially" in 2017 — which, as you'll recall, is a year that has been filled with several lifetime's worth of crappy things. As the Washington Post notes, the study found a "significant and meaningfully large" drop in well-being from the previous year — particularly among women, minorities, Democrats, and low-income citizens.
To calculate "well-being," Gallup asked people a number of questions in the categories of physical health, financial health, community involvement, a sense of purpose, and social support. The average well-being index score for 2017 was 61.5 — which is down 0.6 points from 2016 and marks Gallup's biggest drop since 2008 — which, as you'll recall, was the start of the recession.
Everything may suck, but at least we get the validation of knowing we were right about it sucking.