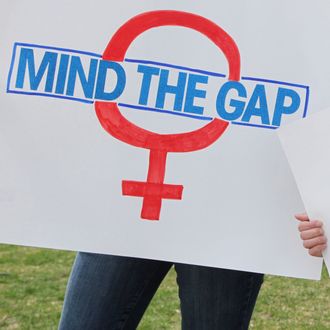 We're still far away from equal pay.
Photo: NurPhoto via Getty Images
A new report from the World Economic Forum found that the global gender gap — spanning the realms of health, education, politics, and the workplace — widened for the first time in a decade. The U.S. has now fallen to 49th in the world when it comes to gender equality (down from 23rd out of 144 in 2006), and last year saw its lowest numbers of women in top government positions in ten years.
This was the first year since the WEF began publishing its annual gender parity report in 2006 that the "slow but steady progress" towards global equality has halted. According to the report — aptly entitled the "Global Gender Gap Report 2017" — the average parity gap worldwide was 31.7 percent last year. But this year, the gap widened a bit to 32 percent and will take 100 years to close (which is longer than the estimated 83 years last year). On top of that, the gender pay gap won't close for another 217 years — significantly longer than the 170-year timeline only one year ago.
Iceland, Norway, and Finland lead the pack worldwide in terms of gender parity, the report found, but the U.S. hasn't been doing too well lately in that regard. The report notes that the U.S. dropped four spots overall from last year, and while the country has largely closed the gender gap in terms of education, it had its lowest level of gender equality in terms of political empowerment in a decade. The U.S. has also only closed almost 72 percent of its overall gender gap — which is a decrease of 2 percent since 2015.
"In 2017 we should not be seeing progress towards gender parity shift into reverse," Saadia Zahidi, the WEF's head of education, gender, and work, said in a statement. "Gender equality is both a moral and economic imperative. Some countries understand this and they are now seeing dividends from the proactive measures they have taken to address their gender gaps."