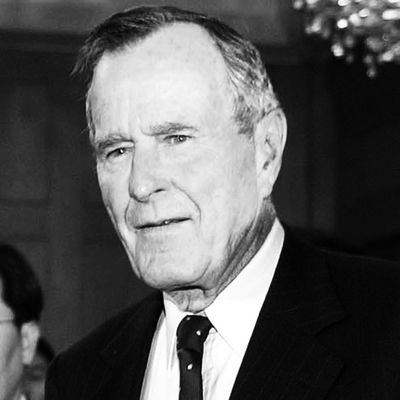 George H.W. Bush in 2003.
Photo: Pool
A sixth woman has come forward with a story about former president George H.W. Bush groping her — and says that he did so when she was only 16 years old.
Roslyn Corrigan told Time that the incident occurred in November 2003. Her father worked for the Central Intelligence Agency, and officers and their family members were welcoming Bush, then 79, for a visit at the Woodlands, Texas, office. It was during a photo opportunity when she alleges the incident happened. "As soon as the picture was being snapped on the one-two-three he dropped his hands from my waist down to my buttocks and gave it a nice, ripe squeeze, which would account for the fact that in the photograph my mouth is hanging wide open," she said. "I was like, 'Oh my goodness, what just happened?'"
Several people, including Corrigan's mother, told Time that she had discussed the groping with them in the past. Her story also follows the pattern of the other women who have come forward with an allegation against the ex-president — all of them have said that Bush grabbed them from behind during a photo opportunity.
Bush's spokesperson, Jim McGrath, has not denied the past allegations, instead apologizing and saying, "He has patted women's rears in what he intended to be a good-natured manner." Others have suggested that the women coming forward with these stories should be "ashamed."
"I don't know, maybe it never really hit people that I was a child at the time and that goes beyond a guy being inappropriate in the workplace to a peer or somebody in his age range," Corrigan said. "I was a child."