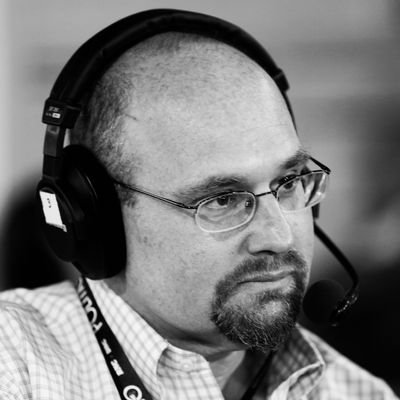 Glenn Thrush.
Photo: Kirk Irwin/Getty Images for SiriusXM
Glenn Thrush, the New York Times political reporter who is frequently parodied on SNL, has been accused of sexual misconduct against young journalists, according to a chilling new sexual-harassment exposé published on Vox.
Laura McGann, the writer of the story who says she also experienced harassment from Thrush when they both were working at Politico, interviewed multiple women who allege that Thrush acted inappropriately with them. A pattern emerged: All the women were in their 20s and just starting their careers. As was the case with other men accused of assault, the predatory behavior was apparently somewhat of an open secret: one 21-year-old woman said that, as with the case she had been warned about Thrush before she started an internship in Washington.
"The word among women just starting in Washington, they said, is to be careful if you meet him at an event with alcohol, or if he sends you a direct message on Twitter," McGann writes.
Corroborated with text and email screenshots, many of the accusations come with documented evidence of Thrush trying to justify his actions. He blames his behavior on "shitty health news," his unfortunate judgment, and eventually his alcoholism, among others. Below, McGann describes her experience with Thrush in detail.
On that night five years ago, I joined Thrush and a handful of other reporters for a few rounds at the Continental, a Politico hangout in Rosslyn, Virginia. At first, nothing seemed strange, until the crowd had dwindled down to Thrush, me, and one other female colleague.




Thrush tossed a $20 bill at her and told her to take a cab and leave us, "the grown-ups," alone. He slid into my side of the booth, blocking me in. I was wearing a skirt, and he put his hand on my thigh. He started kissing me. I pulled myself together and got out of there, shoving him on my way out.




In the morning, Thrush sent me an apologetic email. I didn't save it, but I recall it as similar to the one he would later send to Padró Ocasio's friend in June. He said he was sorry, but he didn't say for what, exactly.
A few hours after this incident, McGann noticed Thrush speaking to other journalists in the distance. During her reporting, she asked a colleague of hers what Thrush had said, and he confirmed her suspicions: Thrush had told him about the incident "except with the roles reversed." He said that she had been the one to come onto Thrush, and Thrush shut it down.
McGann reached out to Thrush for a statement. "I apologize to any woman who felt uncomfortable in my presence, and for any situation where I behaved inappropriately," he wrote, and alleged that he was taking care of his drinking problem after an incident this past June, where he presented himself as an ally to a 23-year-old journalist, and then kissed her when she was drunk and non-consenting. He wrote:
The June incident [described above] was a life-changing event [for me]. The woman involved was upset by my actions and for that I am deeply sorry.




Over the past several years, I have responded to a succession of personal and health crises by drinking heavily. During that period, I have done things that I am ashamed of, actions that have brought great hurt to my family and friends.




I have not taken a drink since June 15, 2017, have resumed counseling and will soon begin out-patient treatment for alcoholism. I am working hard to repair the damage I have done.
Following the publication of the Vox article, The Times published their own report, stating their intention to conduct an internal investigation.
"The behavior attributed to Glenn in this Vox story is very concerning and not in keeping with the standards and values of The New York Times," The Times said in a statement on Monday. "We intend to fully investigate and while we do, Glenn will be suspended."




The Times also said Mr. Thrush had said he planned to enter a substance abuse program and that the newspaper supported his decision.
As for the accused himself, the Times reported that "Mr. Thrush could not immediately be reached for comment" for their own article. However, his statement was tweeted out by CNN media reporter Tom Kludt this morning.