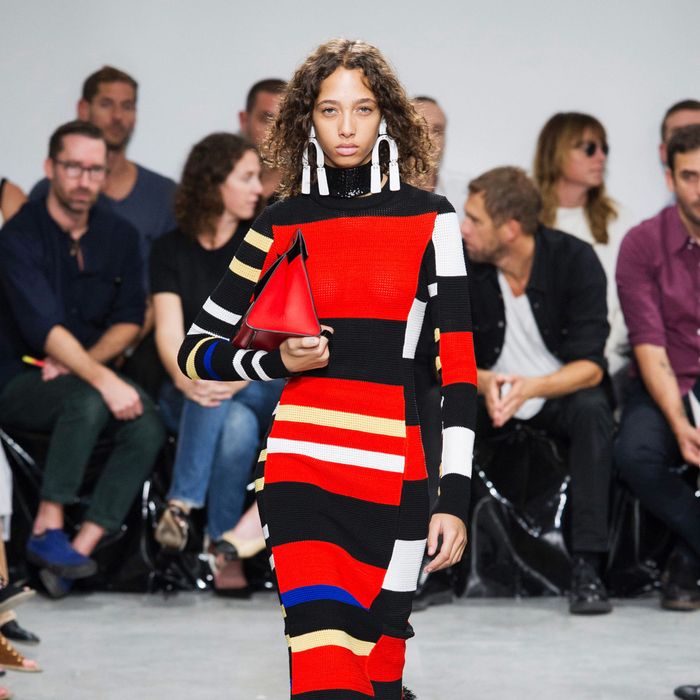 Once in a while, a trend appears on the runway, trickles down to your local mall, and then lodges itself firmly inside your brain. Now Trending is our weekly roundup of where to buy that look that's been haunting you.
It feels wrong to call stripes a trend since they're so easy and so ubiquitous. But stripes recently had an extended moment in the world of runway fashion — just look at Opening Ceremony, Proenza Schouler, or Gucci. These aren't preppy, exaggeratedly simple Breton stripes; they're colorful, retro, and sort of '70s, making them easy to style with jeans or pants in any solid color. Scroll down for seven good reasons to add yet another striped sweater to your wardrobe.
This is slightly oversize and comes in a fabric that's surprisingly hefty for H&M.
Good if you like this trend but hate color.
The Best One for Layering
Wear this thin sweater by itself on warmer days, then layer it under dresses when it gets cold.
The slightly shimmery material makes it perfect for going out after work.
The One That Goes With Everything
There's literally no way to wear this wrong, but if you want take a cue from Gigi Hadid, try it with jeans and white boots.
The burgundy, tan, and forest-green stripes will look really good on Instagram.
If you buy something through our links, New York may earn an affiliate commission.