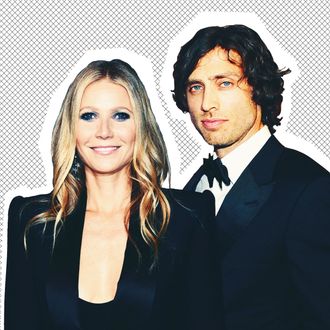 Gwyneth Paltrow and Brad Falchuk.
Photo: Getty Images
As we approach the holiday season, Us Weekly is reporting that Gwyneth Paltrow — along with pretty much every girl you knew in high school — is engaged to her boyfriend of three years named Brad.
Paltrow and Brad Falchuk, a television writer, met in 2014 — the same year Paltrow consciously uncoupled from her first husband, Coldplay's Chris Martin.
The pair have yet to announce their engagement, but just think of the wonders of an eventual Goop gift registry: everything from an infinity scarf for dogs to a gold butt necklace to an at-home sensory deprivation tank.
Until then, let's raise a glass of maca, ashwagandha, he shou wu, cordyceps, and Spirit Dust to the happy couple.