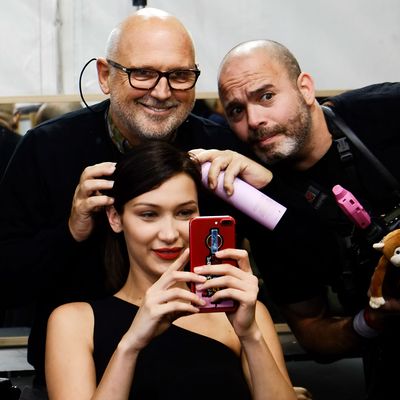 Photo: Rosdiana Ciaravolo/Getty Images
Sam McKnight is arguably the world's most famous hairstylist. He's touched the heads of every single supermodel and has styled over 100 British Vogue covers. He used to work with the royal family and cut the hair of young William and Harry. His collaboration with Karl Lagerfeld over the past nine years has created some of the most inventive hairstyles ever seen on the runway, such as the Chanel croissant and sausages. He even did Lady Gaga's meat dress hairdo.
Now, McKnight has become an entrepreneur with an eponymous hair line of four products — some of the best I've tried this year. McKnight spoke to the Cut about talking Princess Diana out of "sneaky perms," how he invented the first beach wave spray, and how his products will make your hair look better and better.
You worked with Princess Diana for a long time, including giving her the first short haircut. What was the story behind that?
I was working with Patrick Demarchelier at the time. It was 1990. She wanted to change her hair and asked me what I would do if she gave me free rein. She had the big bouffant which was amazing in the '80s, but I thought she need to be modernized. It all happened very organically — it was not planned. Often, that's the best way to do things.
Were you nervous cutting her hair? It looked like Princess Diana had curly hair.
If I got nervous, I wouldn't be in this job. I had also been doing Vogue and celebrities for many years before that. I was 40 years old then. She had straight hair. Sometimes when I was away, she had sneaky perms. It took me about two years to talk her out of it. But it was the late '80s, so it was forgiven.
You're one of the most famous hairstylists in the world. Looking back on the things you've done, what do you see as the theme?
I think my eye goes to beauty, rather than crazy or ugly — I don't respond to that. My role is to make the girls look and feel beautiful. When you feel you're looking great, it's a universal confidence-booster. It's what everyone wants.
You once styled Kate Moss's hair with only seawater. Did you inadvertently make the first-ever beach wave spray?
In the business, we've been doing it that way for years. It was way before any beach sprays were involved. It's been a staple of our kit – running to the sea and filling a bottle up with water. Sea salt sprays probably came from hairstylists being stuck on the Caribbean Islands and having no products. It's probably the most natural hair styling product there ever was.
You've been a hairstylist now for decades, from the '80s up till now. What feels modern to you in hair?
For me, the not-modern thing is having one look and sticking to it. Modern is experimentation. It's about nothing looking the same. People should not have the same hair all the time: they should change it up, whether it's a different look or style multiples times in a day or week or a year. In the editorial world, we do that a lot. But real people can now learn how to change things up. The information is out there.
What's an example of small changes you can make to your hair for a bigger impact?
For example, you can put two or three thick braids in your hair. Do that and you'll wake up with waves in the morning — that's really effortless and can make a huge change to your hair. Or before it's dry, try scrunching your hair up in messy pin curls before going to bed. It gives it really fun, unruly texture and messy waves in a much more organic way than you would get with curling irons.
If you add a texturizing spray, it will really change your hair dramatically very quickly. Try a quick braid underneath or on one side of the hair. Change the part from middle to side and put hairspray on the part. Razoring a few layers around the front of your hair can completely change the way your face looks without cutting your hair short. Those little changes can make a huge difference.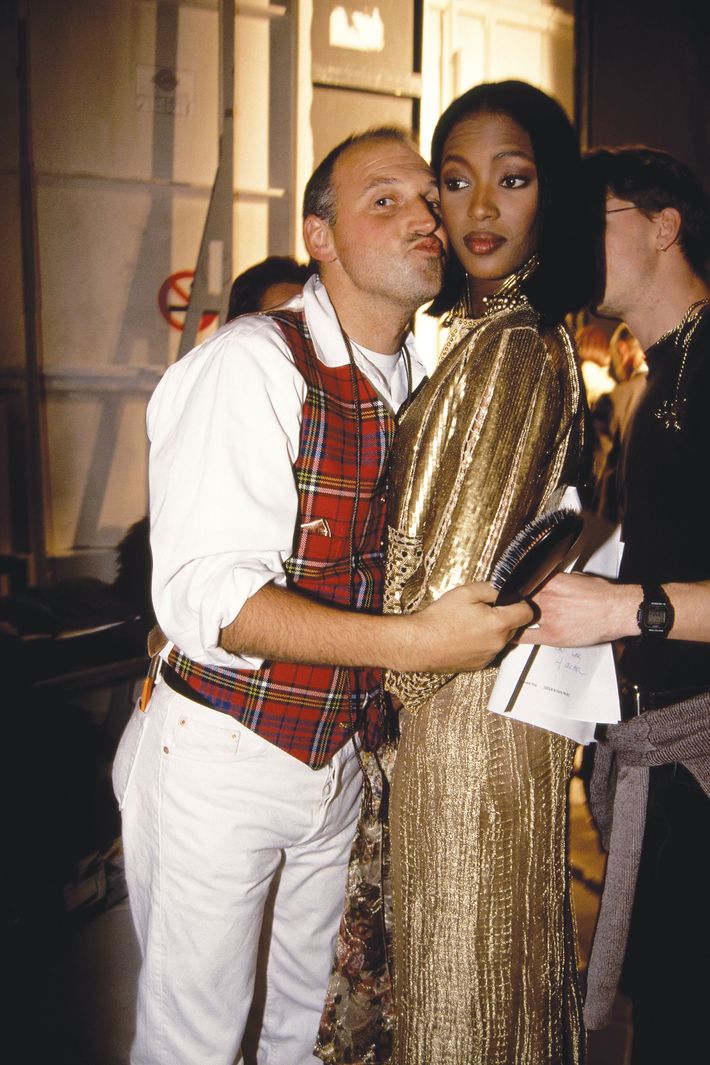 You've come across a ton of hair products over the years and represented a few brands, but making your own line is a ton of work. Why did you want to start now?
I've been advising other people on what to do, but then I thought, I want to put my money where my mouth is. I really wanted things that were light and could be brushed out. I was trying to find the exact formulations that felt really right and modern for now. Everything is done with an even keel. There's not too much gluey stuff. There's not too much sticky stuff. They're not really wet. They don't take a long time to dry. They change the texture of the hair a bit, while still making it feel like hair.
They should really feel light and easy to apply. It shouldn't leave your hair unworkable after using them. We did a shoot the other day, and I did five different looks on Kaia Gerber. By the end of the day, her hair just got better and better. That was the real testament.
Who do you see this line benefitting?
People on the street. It's for people who want their hair to look like hair, but just better. There are no products which will change your hair into sheep's wool. I know people do that really well. That's not what this line is about — it's about making it the best of what you have. I've formulated everything to have a light touch, and a firm hold. But it definitely works.
It's taken five years to do this and we've done lots of trials. Even the scents are special. My friend Lyn Harris, a great nose, has a company called Perfumer H. She spent a few days in my English garden. We wanted to have the products smell like an English garden in the rain — it should smell herby and floral, like a fine fragrance.
The funny thing about runway hair trends is that we've seen a lot of hair that is supposed to look like you haven't done anything to it. But what's the difference between not actually doing anything to your hair and the idealized version you create?
It's perfect. Not everyone's hair can look good like that. Most people need something in it. I know it's an oxymoron. It's like no-makeup makeup, where you get the lightness of see through foundation, cream. This is the equivalent. It's the hardest thing to do on a show.
With actual hair you haven't done anything to, it can be flat at the roots or oily. That's when you would spray a little Lazy Girl shampoo. You would volumize it a little bit. If we haven't done anything to do it, maybe backcomb it a little bit at the roots. Other times, I'll give it a tiny movement with the curling iron — it's like showing the hair the curling iron, rather than really doing it. Everyone's hair is different. Sometimes, really frizzy hair needs a full blowout and then to be toned down a bit.
Why does hair continue to interest you?
I'm in the business of creating great images and making people look and feel great. I get to work with people like Karl Lagerfeld and great women. It's hard not to be inspired.
Read on for our take on McKnight's products.
Photo: Courtesy of Sam McKnight
Unlike other dry shampoos, which can spray in an angry, wet pssst, this one is incredibly light without feeling at all wet, sticky, or gritty. It may not initially seem up to the challenge of super-oily roots like, say, the Living Proof shampoo, but just wait and see.
A Universal Texturizing Spray
Photo: Courtesy of Sam McKnight
This is the hair product from McKnight's line that's most often sold out. "Everyone seems to relate to Cool Girl," McKnight says. "It's the one that seems universally loved and adopted by so many people. Spray it on freshly washed or two-day old hair. It gives silky fine hair that kind of slightly dry, textured look that makes it a little disheveled and not too perfect."
A Non-Hairspray Hairspray
Photo: Courtesy of Sam McKnight
You know all the stuff you hate about hairspray? It's sticky, it's wet, it turns your hair into hardened cotton candy? This is the opposite. McKnight has made this product into a real multitasker. It can set hair, add volume, and even add body.
Photo: Courtesy of Sam McKnight
People who complain that their hair never "holds" braids or curls because it's too slippery: This one's for you. It gives hair more grip, making it a great texturizer for braids, buns, or, if you're fancy, chignons.
If you buy something through our links, New York may earn an affiliate commission.
This interview has been edited and condensed.