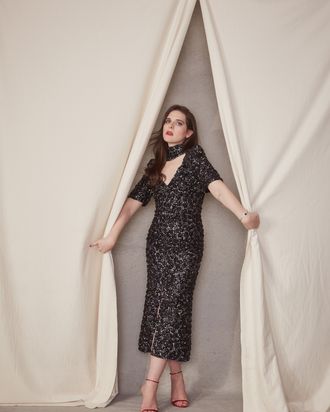 Hari Nef in her own dress.
Photo: Kathy Lo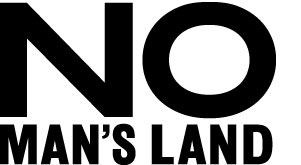 This week, women's social club The Wing launches No Man's Land, its first print magazine, with stories rolling out exclusively on the Cut.
Actress profiles introduce their subjects with a particular, lyrical formula, a brief for picturing a woman: On an August afternoon, Hari Nef approaches me on Manhattan's Pier 51 (her chat spot of choice) with a little wave, her long chestnut hair grazing a low-cut black leotard, falling mere inches above her well-worn Gucci belt. You may recognize the cadence: actress, approach, location, her nut-colored hair, her limbs, sometimes her laugh, and maybe a salad. It's numbingly predictable, but right now, it's what Hari wants — to not be preceded by, as she says, "that for which I am known."
It's not so much bucking as blooming. On September 29, Hari tweeted a statement: "My hope is that I will come to be known primarily for my work and my artistic ability," she wrote. "I understand I need to earn that over a long time."
Hari is a woman worthy of many introductions. She is a woman to meet.
Hari, 25, grew up in Newton, Massachusetts, where she spent time at her town's Borders bookstore reading imported fashion magazines with articles about "It" girls. She moved to New York in 2011 to study theater at Columbia University. The first time I met her, in 2014, was on set for a Dazed portfolio of friends of Mike the Ruler (Mike Hope), a glasses-clad 14-year-old then–Instagram star from the Upper West Side who wore his Hood by Air chain necklace so much it bruised a growth plate in his chest. To me, Hari's story already sounded like a beginning, a city tale for a superstar: She was 21, a founding member of the post-drag performance-art collective Chez Deep, not quite a "club kid" but a club presence, and a recent intern at Vfiles, a new downtown hub for avant garde and street fashion. She was growing her hair out from a buzz cut and didn't know how to drive. Along with riffing on shoes and shows, Hari possessed the ability to sharply dissect and dismantle the gaze that was consuming her, and used interviews to lightly educate (while using social media to drag) people about gender politics. She'd just started to model for friends like Shayne Oliver of Hood by Air and the Eckhaus Latta duo, brands known and praised for their compelling casting choices.
A year later, Hari was signed by IMG. She walked for Gucci in Milan and appeared on the covers of Elle U.K. and Love magazines. Jill Soloway, whose sister was Hari's camp counselor in Massachusetts, wrote a role for her on Transparent. She continued to speak to the press about the significance of her platform with poise and a little concession, and she accepted the title of activist (bestowed on her by Interview magazine in 2015) as a necessary buttress to her acting career. But in this social-media era, balancing magnetic renown like Chloë Sevigny's and public attunement like Gloria Steinem's took a toll.
"This is not what I want to talk about anymore. Identity is a dead end. It's a snoozefest," she told The Guardian in 2016. A year later she tells me, "It doesn't really seem to be sticking." Why can't she just be an actress? "The industry sort of cornered me into dancing that jig for them," she says. "After the first time we met I sort of wasted away for a year and a half."
Often, campaigns for social change speak to awareness. But do fashion-oriented pushes for political causes move us to hold ourselves accountable or merely chime in? "If I ever called myself an activist, I regret it, and I was cornered into it by an industry who couldn't justify me taking up space without saying that I had some kind of radical political agenda because they saw my participation as a radical political thing," she says. "Which it was not."
Which is not to say Hari is not active. Recently, she appeared in an Everlane campaign for the Human Rights Campaign and a Proenza Schouler video for Planned Parenthood. "But that's not being an activist," she says. "That's being a good person who is a public figure."
"I've had to draw that boundary because it took a serious toll on my mental health. I had to stop going to parties and events, and I had to stop doing so many interviews. Since I've stepped away, I've been happy because I'm not being asked these intrusive questions, and I'm not being held to this immense responsibility of representing a community. I can only represent myself, and it feels good to shrink my world."
Hari is the face of the new fragrance Gucci Bloom, part of a multiyear contract with the ultracool fashion house. She tells me about her work as we walk through the West Village, to the stoop that was the front of Carrie Bradshaw's home in Sex and the City, then to a vegetarian restaurant to drink green juice with mezcal. We talk about writing scripts, whether she will stay in New York or move to L.A, Final Fantasy X, artistic process, activists (like Janet Mock, Pidgeon Pagonis, Laverne Cox, and Sarah Sophie Flicker), dreams, and Lynchian life moments. Every minute, I meet her again.
Hari leans toward New Jersey, elbow on a railing, to take a perfectly lit Hudson River selfie for "my beloved," just letting that little mystery dangle for me like a necklace I want to put in my mouth. She's just wrapped on a cameo part in Mapplethorpe, a biopic starring Matt Smith and directed by documentarian Ondi Timoner. In it, she plays Tinkerbelle, the Warhol superstar and Interview writer who told Patti Smith that Robert Mapplethorpe, her partner at the time, was having an affair with model and "It" boy David Croland. "Every surviving figurehead from that time has mythologized it, written about it, published photos about it, and totally cashed in on it, convincing all of us contemporary New Yorkers that we're living in a lesser time," she says. "Are parts of that true? Probably. Are parts of that false? I'm sure."
Considering her role on Transparent, she's used to transcending time. Hari's character, Gittel, was torn out of her life by Nazis during an LGBT purge in Berlin in 1933. "It's funny, I never thought period was going to be my slice of the pie, but I keep winding up in times other than my own," Hari says. "I've been told I have a face of not-now." Her bone structure and décolletage resemble Madame X's in John Singer Sargent's famed portrait. Hari's paintable demeanor may be surprising given how often her photo has been hitched to proclamations of a moment.
In February, Hari filmed her first lead role, as Bex, in the feature Assassination Nation, a movie about four young women at the center of a hacking scandal that gets national attention. The film, also starring Suki Waterhouse, Odessa Young, and Abra, has yet to get a release date, but Hari summarizes the plot with her colorful wit: "Typical American teenage girl. She gets blamed for shit, she gets called a slut, she gets called a whore, she gets harassed, her nudes get leaked. Everyone is besieging her. And then you put a gun in her hand …"
"It passes the Bechdel test in a 'Let's try not to die' way," she says.
The film has shades of Heathers and Kill Bill. Sam Levinson, who wrote and directed the film, told Hari that nobody wanted to produce it prior to the election. "None of the big young Hollywood actresses wanted to touch it because it was too wild," she says. "Then, the day after the election, the calls were pouring in."
"Of course, it was four central teenage female characters written by a straight man. So, I kind of expected it to be not very good at all," she says. "Sam was very receptive to my opinions and feedback. I would comment on things from the script, and in a couple of instances he copy-and-pasted the email and put them into Bex's mouth. That's what collaboration should be when you have a male storyteller telling the stories of women."
In the film, Hari has her first sex scene on camera, and her character, Bex, wields a gun. On her Instagram, Hari shared a video of herself geotagged in Louisiana, firing bullets into an evil clown's paper face, presumably to train for the role. "Bex is the girl I wish I had been in high school," Hari says.
Even through weeks of night shoots, she felt bliss. "It took me a while to have moments of vulnerability when there're ten men standing around [me] with lights and microphones," she says, "but I was happy every day. It's the best work I've ever done." "Is that the Gucci perfume?" I ask. Hari says that it is. Alessandro Michele, the brand's creative director, caped her in red on the runway in 2016, then cast her in the floral-packed fragrance campaign that summer. The ads feature an apartment scenario, a lake scenario, an urban-garden scenario, and a scenario in which Hari is pouring tea for Petra Collins and Dakota Johnson at a bus stop, the image of which, at the time of this writing, is getting little wings as a meme.
At the Emmys last year, Hari wore a Gucci dress: red, invisible strap, and a red-carpet silhouette. "But if you look closer at it there are naked anguished cherubs printed on the dress," Hari says. "That to me is the negotiation. Do I believe aesthetically in the silhouette of this dress? Absolutely. Classic Hollywood glamour. Do I believe in the integrity of these screaming baby cherubs? Yes. Beauty is always terror. Glamour is always murder."
Hari's bookings have shifted in a more commercial direction since she began modeling. "I've gone from the edgy girl to the girl you call for H&M and L'Oréal, which is something neither I nor the myriad agencies that rejected me when I tried to get signed could have predicted," she says. But her cherubs scream about the suffocation and denial that swirls around beauty standards. "Let's see how much racket I can make within these conventions," Hari says.
Hari says, "Hi, everyone!" in a YouTube makeup tutorial. Her skin looks kitten-soft, silky like a dove's belly, lit from the inside. It's a little unbelievable that the premise of this video is that her face isn't already ready.
When she laughs in the video, I notice her straight teeth and remember something she said on set: "I never had braces. Just depression!" She knows how to, at once, highlight and make light of the reality of female effort.
Like at the Butcher's Daughter, where neither Hari nor I can decide what to eat. "The kinetic energy hanging between two women the moment they are deciding whether to get the large or small," Hari says. "It's always the small and you just sort of recognize that." Two little potato skins arrive.
"When it comes to modeling I always feel like my body is a myth or a story that is told by other people and no one knows what my body really looks like," Hari says as our check arrives. "I'm never gonna be a runway girl. I'm not gonna be a girl who walks six shows in New York, four in Milan … I can be a guest star in a figure-obscuring look."
"Are you tired of this conversation yet?" she asks. We move on to the mundanity of wellness routines.
"I see a Reiki healer from time to time. She sits on my bed, and I lie in her lap. She puts her hands on me for about 45 minutes, and she reads my energy. Whenever I'm having a hard time I call her. I also go to weekly therapy, and that has been invaluable. Also, getting on medication for my neural atypicalities, I guess we might call them. I take Propranolol before red-carpet events and auditions. I take Klonopin as needed for stressful moments in my life. I take a dietary supplement called Deplin every morning. I was not abusing but using Adderall that I bought illegally and used during some work-heavy parts, both for the energetic things and appetite things. I have completely replaced the Adderall with this natural supplement. I'm the type of person who wakes up and has things to do, and then I'll just stay in bed. I still have all this Adderall that I bought from my friend's mom, but I haven't been taking it. I try to work out a minimum of twice a week as hard as I can. If I have a free week, I work out four or five times and pretend I'm in the Victoria's Secret fashion show, which will never happen. I have a plant-based diet — I eat vegan.
It has allowed me to resolve a lot of issues I have with food and consumption. It's also been very kind to my skin and my digestive system. I'm not afraid of any of these things. These allow me to do what I do. And I don't abuse them. So those are my wellness tips."
No one asked Hari to stand on the apple box on the No Man's Land set, nor did she ask permission to climb up. She's wearing a houndstooth Chanel jumpsuit, no shoes. It was her idea. "If we have this barefoot moment we might as well justify it," she says as she steps up. The box is set up New York style — on its short side — the unsafe way for standing, and Hari is planning to pose on one leg. She moves her right foot up to the crook of her left knee: tree pose. She's confident, but a little wobbly. She really has just begun.
She gets up there. Her heel grazes her calf. The apple box tilts onto an edge.
I don't know if someone says get down or it's more understood. "Just bear with me," Hari says. The box rattles. "I'm okay." It shudders.
At 21, she wrote in a poem that was also published in Dazed: I saw myself as a tree careening toward the woodland floor. I could not happen without witnesses.
Hari Nef is a woman to witness.
Slowly over the course of our day together, Hari revealed to me that she is writing a script for a project in which she will play the lead. As I watch her pose, she is activated, self-led, and knows how to create tension. The crew, my editors: All eyes are on her. This is a great skill.
"I'm gonna be fine. I have really good balance," she assures us. The apple box shimmies. "Please don't worry about me."
She's solid. She points at the camera. She's beautiful.
Stylist: Coquito Cassibba
Hair and Makeup Artist: Rebecca Alexander
Prop Stylist: Jonathan Qualtere
Stylist Assistant: Cathleen Peters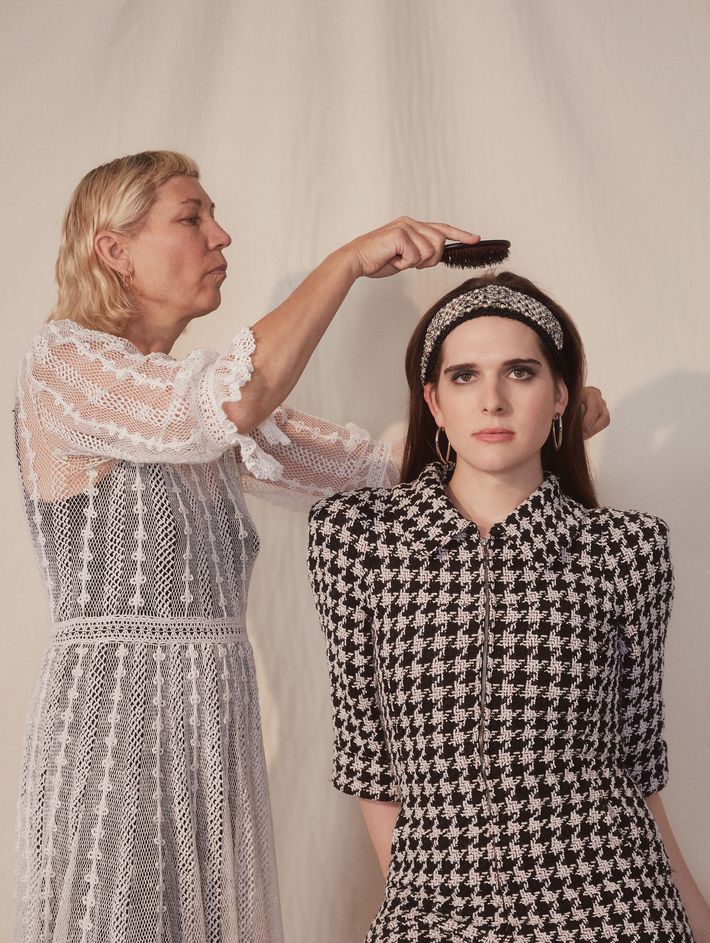 Jumpsuit and headband by Chanel, earrings by Area, ring by Cartier.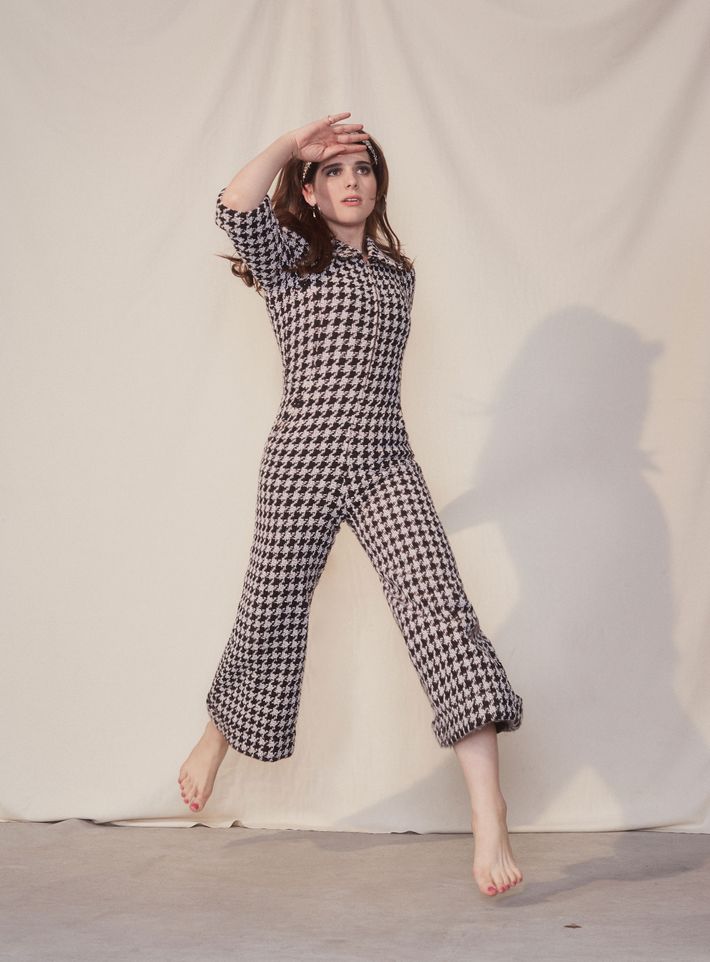 Jumpsuit and headband by Chanel, earrings by Area, ring by Cartier.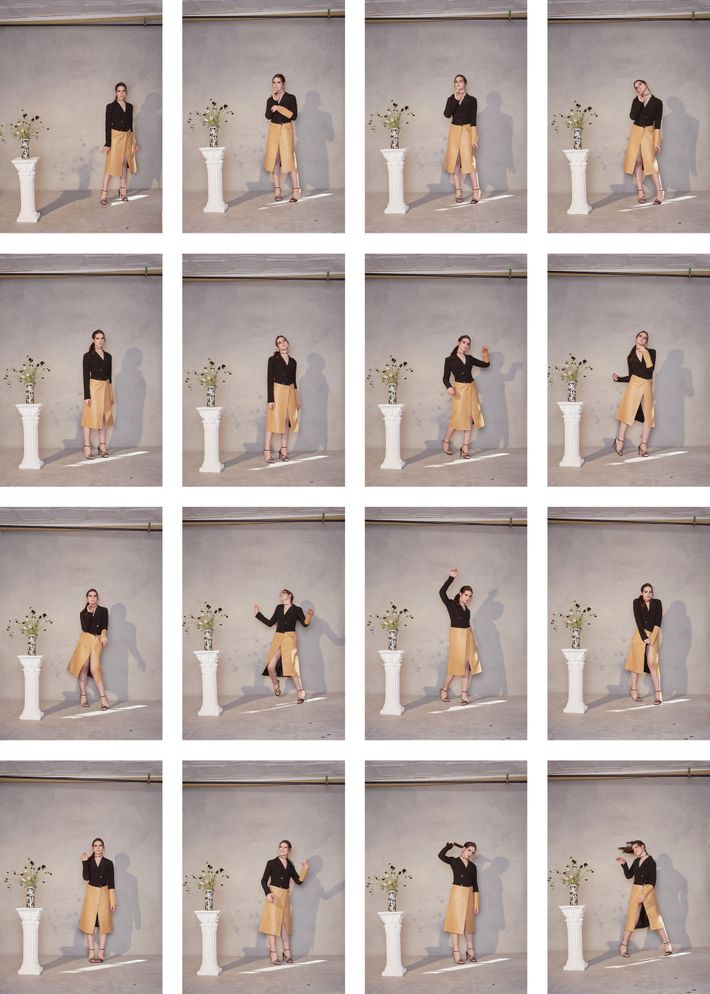 Coat by Loewe, shoes by Gucci, choker by Erickson Beamon, earrings by Delfina Delettrez, ring by Cartier.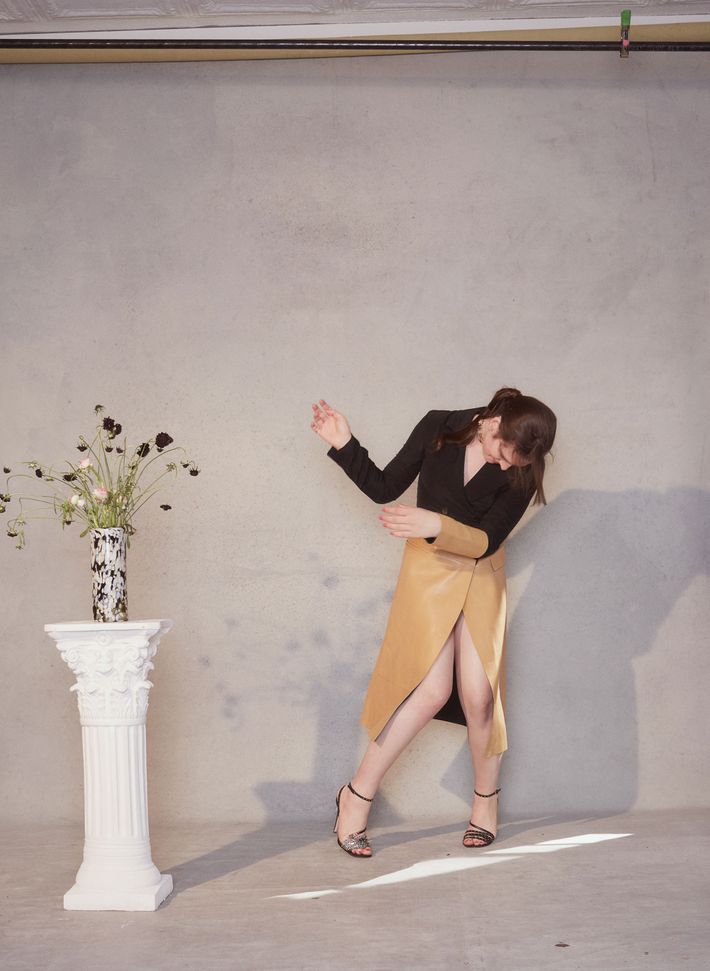 Coat by Loewe, shoes by Gucci, choker by Erickson Beamon, earrings by Delfina Delettrez, ring by Cartier.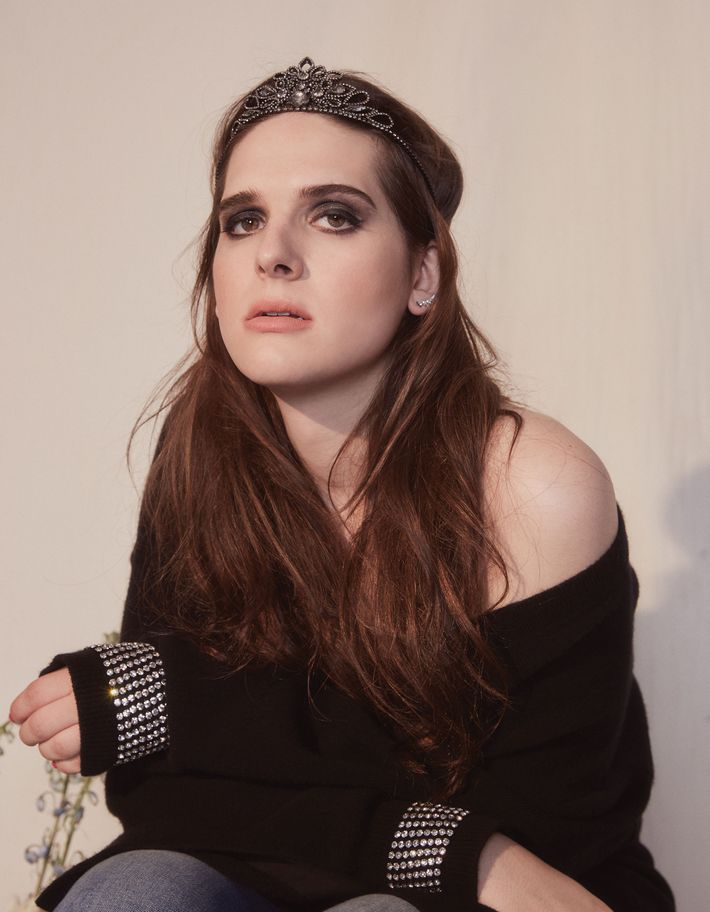 Sweater by Alexander Wang, tiara by Erickson Beamon, ear cuff by EF Collection, necklace by Dana Rebecca.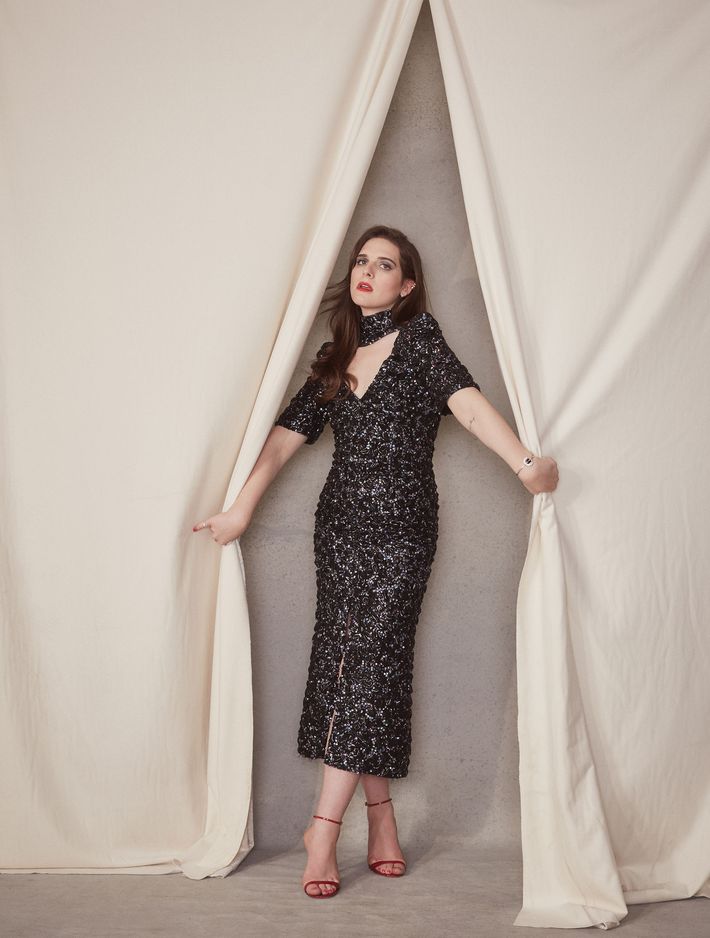 Nef's own dress.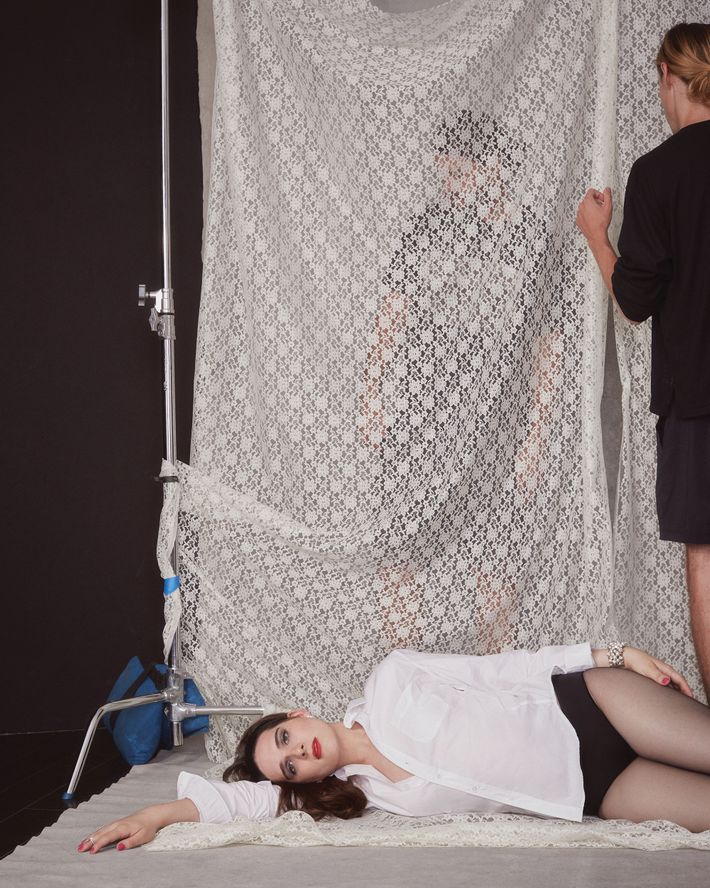 Shirt by Love Hard, stockings by Wolford, panties by Prae, shoes by Saint Laurent.