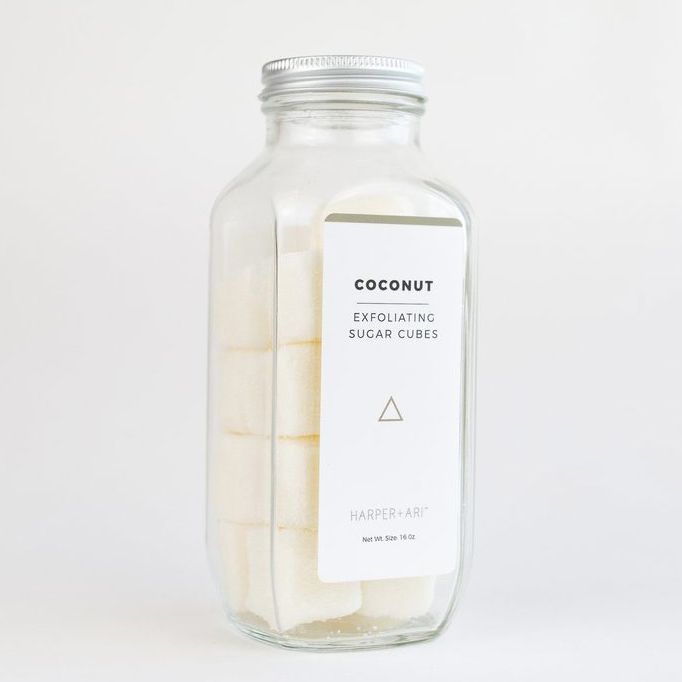 As a person who worships smooth skin, I believe exfoliants are sacraments. There's nothing better than a pH-balanced alpha hydroxy acid for a face as smooth as glass, while scrubs are transformative for the rest of your body. My favorite is Herbivore's Coco Rose for its delicate consistency and addictive scent, but Harper + Ari's Sugar Cubes is rapidly becoming a new favorite.
Made of sugar, glycerin, shea butter, aloe vera, and fragrance, the half-inch cubes slowly melt as you rub them across your body in the shower or bath. They don't crumble the way a food-grade sugar cube might. Instead, the texture is slightly gummy, though abrasive enough to soften the rough patches on my elbows and knees. They come in a range of fruity scents — peach, lemon, tangerine, apricot — but I like the muted, nutty coconut ones best.
Some scrubs are too oily and difficult to maneuver in the shower. Others are made of granules that dissipate so quickly, you're hardly able to scrub your body at all. But this one leaves skin soft and smooth without depositing an oily residue, and one cube is perfectly portioned to exfoliate your entire body. Think of Sugar Cubes as the scrub to try when you absolutely hate all other scrubs. Or the scrub to buy a friend — it is, after all, a perfect holiday gift.
If you buy something through our links, New York may earn an affiliate commission.