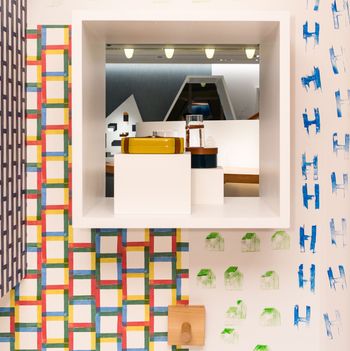 Hermès' white canvas installation.
Photo: Hagop Kalaidjian/BFA.com
Hermès, land of the Birkin bag, is the last place you'd expect to be invited to come in and draw on the walls. But the Madison Avenue flagship is letting the public stamp ink all over its new installation with giant rubber stamps of horses and houses — among the brand's cashmere, leather, and, of course, Birkins.
They opened an interactive art installation called "White Canvas" at the store last night, celebrating the leatherwear label's new homeware collection designed by creative director of Hermès textiles Florence Lafarge in collaboration with the Italian artist Gianpaolo Pagni. White walls await visitors with "H" stamps and ink pads hanging nearby on magnets. Miniature wooden shelves shaped like houses feature the new line's upholstery, porcelain, and wallpaper covered in graphic illustrations of houses and horses.
The "White Canvas" installation is open at 691 Madison Avenue until November 18.